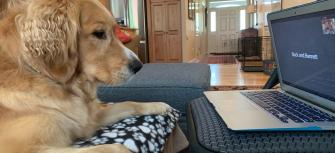 Portland Area Canine Therapy Teams
You see wagging tails and furry coats. We see expertly trained dogs and their committed handlers furthering human health through positive interactions with dogs. Virtual visits are making a difference in your community. Learn more about us!
I want to volunteer.
Wonderful! Our 80 teams logged over 8,000 hours last year!
I want to request a visit.
Our teams visit with people of all ages and walks of life.