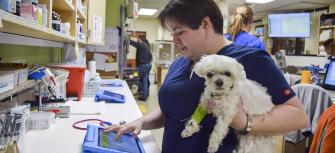 Resources for Pet Owners
If you're worried, we're worried, too. Whether your pet needs immediate care or help managing a chronic condition, our experienced team is ready.

ER walk-in hours: 8am-11pm.
Walk in from 8am-11pm. Read on to understand all of your options for medical care.
Learn More
Do animals really need specialists? Yes! We see cases every day. Could specialty care help your pet?
OUR SPECIALITIES
A team with deep knowledge in avian and exotic care that's available by appointment to help your furry, scaled, or feathered friend.
Learn More
Healthy, happy lives for pets start at home! See what you can do to keep your pet healthy all year.
HELP YOUR PET
All pet lovers know they'll have to say goodbye to their furry family members someday. See how we can help.
PET LOSS SUPPORT