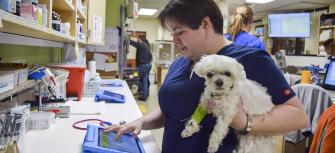 Resources for Pet Owners
Explore the resources we have available and information that could make your experience at our veterinary ER as comfortable as possible.
Call Before You Visit
A third-party team of veterinary technicians will complete a phone evaluation for your pet and discuss options with you before you head to the ER.
Have you called your veterinarian? 
We recommend that you contact your primary veterinarian to discuss your pet's condition. They may have last-minute veterinary appointments available.
Do animals really need specialists? Yes! We see cases every day. Could specialty care help your pet?
OUR SPECIALITIES
Healthy, happy lives for pets start at home! See what you can do to keep your pet healthy all year.
HELP YOUR PET
All pet lovers know they'll have to say goodbye to their furry family members someday. See how we can help.
PET LOSS SUPPORT