Important Referral Information
Call 24/7 for ER + ICU Referrals: 971-255-5990. Or find resources for your team, patients, and clients here as we all work towards offering the care that animals in our community deserve.
Specialty booking is easier than ever with an online calendar that lets you and your clients see our real-time availability for fast, convenient booking.
View Upcoming Availability
Request non-emergency records from our team, and we'll send your team the information within a few days.
Request Records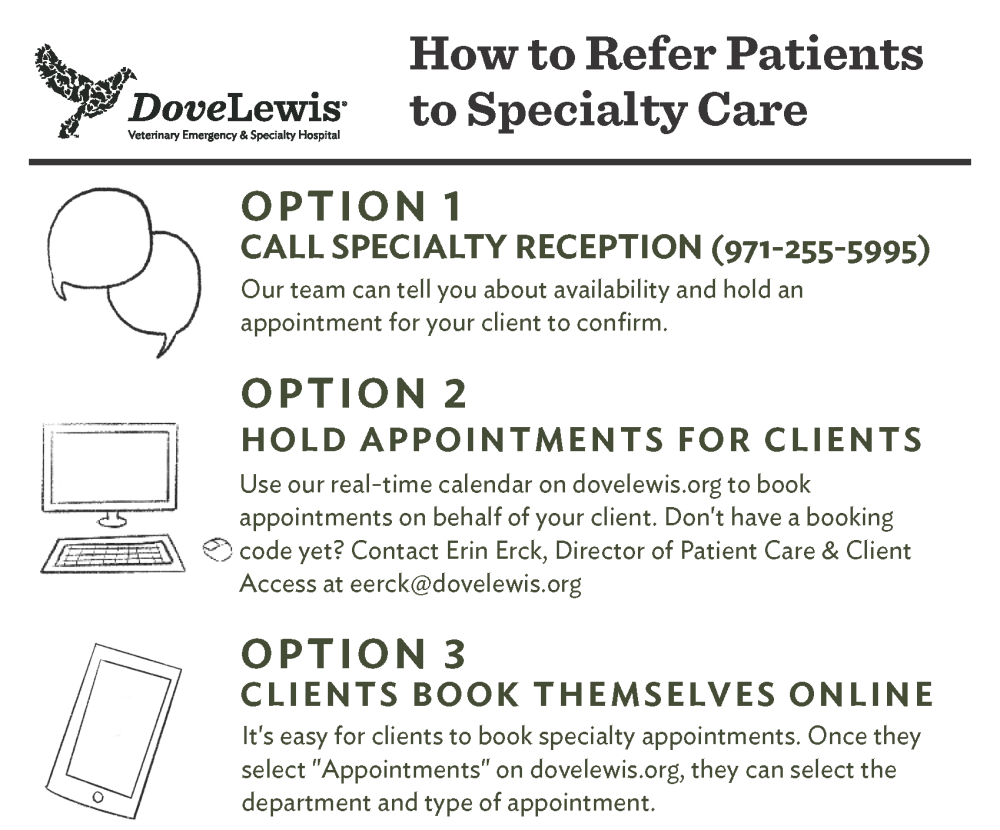 These are unusual times we're all working in. Help prepare your client for what they can expect at DoveLewis, including:

- ER v. Urgent Care Options
- Costs of Care
- Industry challenges
- Historic Wait Times
- Kindness towards veterinary teams
Get Tools for Preparing Clients
Our veterinary portal is more than a standalone referral tool. It can streamline your team's work and our communication regarding shared patients.

Even if you need to speak with us for medical advice, the portal can expedite record sharing and improve our ability to help.
Go to Veterinary Portal
Because of how busy the ER is, our imaging appointments are limited. If you're looking for next steps on a difficult case, you may want to consider an Internal Medicine or other specialty appointments.
View Appointment Availability
Meet the professionals behind each department and understand the services that are available to your team.
See Departments + Services