Financials
More than a place to go in an emergency, DoveLewis is a hub for education, support and community. It's with the support of donors, volunteers, and other great neighbors that we can do so much.

DoveLewis' Federal Tax ID number is 93-0621534.
As a Non-profit, DoveLewis depends on your support.
Reinvesting in Our Community for Pets and People
Non-profit organizations operate and are maintained to serve a public good. Any net earnings by a not-for-profit organization are used by the organization for the purposes of which it was established. No one "owns" DoveLewis and no one makes a profit from our success. The board of directors is made up of unpaid volunteers, but our staff is paid. DoveLewis charges for its medical services to cover the costs of ER and ICU medicine. Any net earnings by DoveLewis are used to pursue the organizational goal of providing exceptional animal emergency and critical care services. This could include buying new medical equipment. 
DoveLewis' Federal Tax ID number is 93-0621534.
As a nonprofit, we rely on the support of our generous community members. Some are able to donate financial gifts, others offer their time or expertise, and many do both!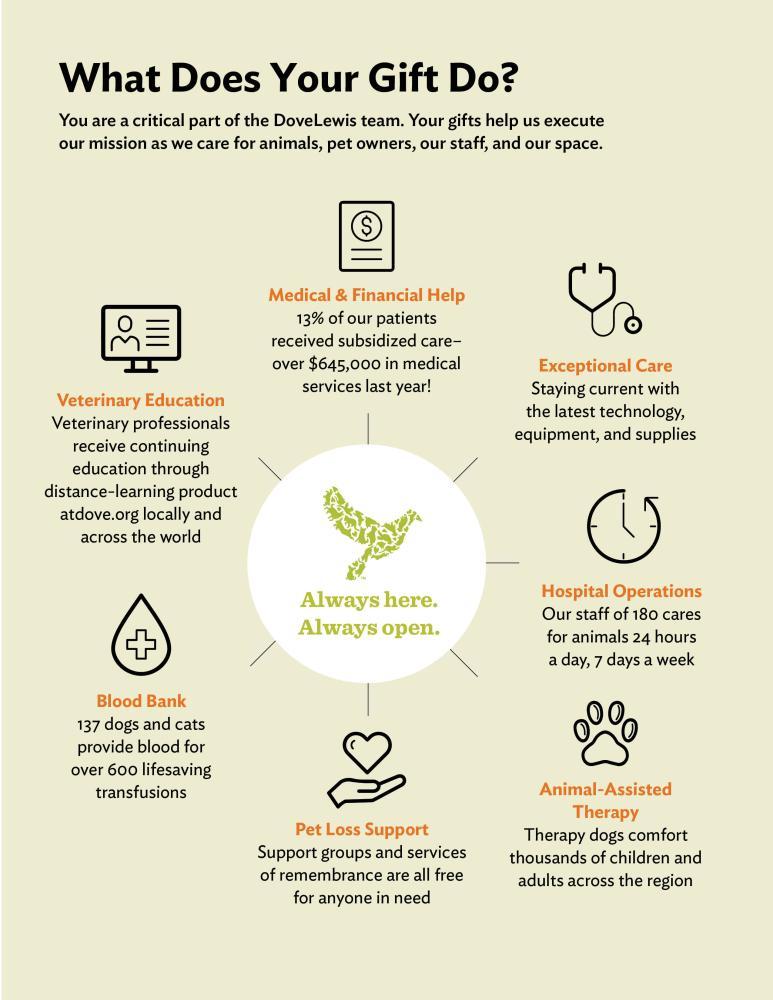 Our Mission in Action
Kevin and Hannah imagined their wedding week a bit differently, but "in sickness and in health" rang true when Sheldon, their 4-year-old Bernese Mountain dog, needed life-saving treatment at DoveLewis.
Watch Short Video
When Gatsby's leg was swollen, Jay didn't know where to turn. Thanks to the DoveLewis Velvet Assistance Fund, Gatsby was able to get the care he needed.
Watch Short Video
More About Nonprofits, Donations, and Impact
Other Helpful Information
2022 was a year that expanded our services to allow us to do more than ever before including treating nearly 27,000 animals!

Read the Full Report