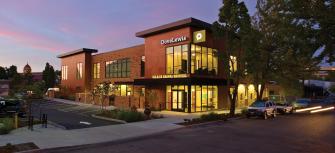 About Us
DoveLewis was originally founded to support local veterinarians and animals in need of emergency care and now treats nearly 30,000 animals each year. Learn more about our history and where we're going.
As a Non-profit, DoveLewis depends on your support.
Our Values
Access
Access (always) is our commitment to being there; being available. Because being open is about more than business hours, but rather, about being open to learning. Open to compassion, whenever support is needed most.
Empathy
Empathy begins before our first interaction. Because even before we can share what we know, or do what we do in caring for animals, we must care for people. This is for everyone who works here; every veterinary professional who we support; and every client in need of our service.
Responsibility
We are underscoring our promise to provide quality care to all who enter our doors. As a non-profit, we are measured differently. We invest more deeply in the care we deliver. This is our commitment to giving back: to care, to people, and to our communities.
Community
Community engagement is our social contract for meeting the evolving needs of all the people and places in which we do business. That community is expanding as we expand our reach and diversify our offering. We understand that true engagement takes in as much as it gives and it strives to give more than is asked.
Improvement
Continuous improvement is our oath to being better than ever. It's about taking the necessary steps, every day, to be a better business. To be here when we are needed, whenever we are needed. To be better community partners, better listeners, better providers of care at all costs. Because better care is the bottom line.
What Sets Us Apart?
DoveLewis Emergency Animal Hospital is accredited by the American Animal Hospital Association (AAHA) in recognition of our high standards of veterinary excellence.
Learn More
The Veterinary Emergency and Critical Care Society recognizes DoveLewis as a Level 1 emergency and critical care facility that provides exemplary care and outstanding efforts to raise awareness in veterinary medicine.
LEARN MORE