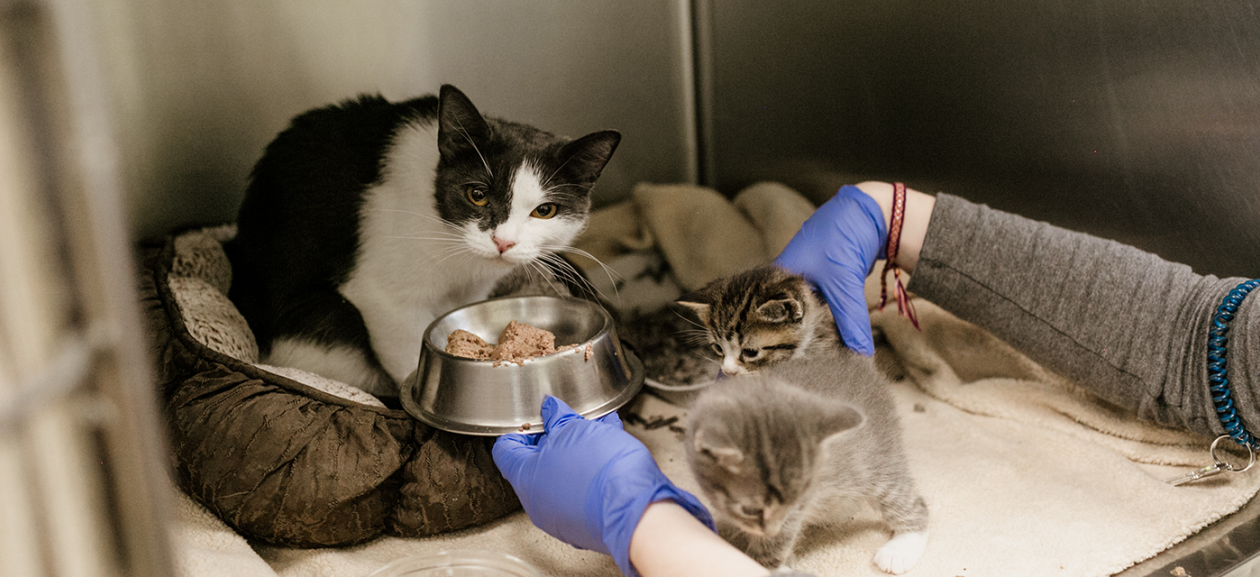 "Kitten Season" Meets COVID-19 Restrictions
With COVID-19 precautions colliding with the inevitable baby animal boom that DoveLewis sees each spring, the 24/7 animal hospital is asking the public to help.  
PORTLAND, Ore. – Every spring, DoveLewis Veterinary Emergency and Specialty Hospital sees an increase in injured stray animal and wildlife cases. Though adorably dubbed "Kitten Season" because of the boom of stray kittens inevitably born each spring, DoveLewis' team is aware of how crucial this period is for the health of thousands of animals.
"Last year we treated nearly 1,200 stray or wild animals, and we've started seeing an influx of baby birds already. We're ready, but we could use some extra help from the community," said Ron Morgan, DoveLewis President and CEO. With agencies and veterinary clinics adjusting their services and protocols to accommodate COVID-19 precautions, capacity is limited. "We're here to help always, but everyone can do their part to make sure care is going to the animals who need it most."
DoveLewis can provide emergency stabilization and care for hundreds of strays and wildlife each year through its donor-funded Stray Animal & Wildlife Program, but the nonprofit is encouraging good Samaritans who find healthy stray animals to keep them safe and contact their county's animal services agency directly. "Strays are more likely to be re-united with their families in their home shelter, and that helps us focus our team's resources on the animals in need of medical care," said Morgan.
Determine if the animal is actually injured. Often times, stray domestic animals appear injured but are actually just fearful. If you see no obvious injuries or unhealthy behavior, contact your county's animal services agency.
Uninjured wildlife should never be touched. Baby animals, especially birds, may appear abandoned, but they are likely being cared for by their parents even if it's not immediately obvious. Some bird species leave the nest and spend as many as two to five days on the ground before they can fly. During this time, the birds are learning vital life skills. Unless an injury is visible and obvious, leaving them alone will give them the best chance of survival.
Assess the safety of the situation. Make sure you are protected from the environment, like moving cars and running water, as well as the animal. If an animal is in pain and fearful, you never know how it will react. If you have any reservations about rescuing or handling a domestic stray animal, call your local county animal services.
If you find an injured wild animal or bird during regular business hours, call Portland Audubon. If you come across an injured animal in the evening or on the weekends, use your best judgment on whether the animal can be rescued and delivered to DoveLewis safely.
Cover and contain. If the animal is obviously injured and can be transported safely, find a towel, blanket or thick gloves to use while handling the animal to put a barrier between you and the animal. Place the animal in any available safe container – a carrier or a box is ideal. Make sure the animal is as comfortable as possible and secure in the container. Many animals, especially small ones, are stunned when injured and will fly or scurry away when they are more alert. Please remember, it is illegal (and unsafe for you and the injured animal) to attempt to rehabilitate a wild animal on your own.
###