If you're worried, come in.
Do you need to come in? Short Answer: Yes. Long answer: If you're worried, we're worried. The best way to see if your pet is in need of emergency treatment is to have a veterinarian examine them.

Have you called your veterinarian? 
Because patients that need life-saving treatment are seen first, our stable patients tend to have the longest waits. So when is it okay to wait until your pet can be seen by your family veterinarian? That's a hard question to answer. Sometimes minor complaints can mask major problems. You know your pet best, so if your pet is lethargic or just "not right," evaluation by a veterinarian is always the right decision. When possible, we recommend that you contact your primary veterinarian to discuss your pet's condition. They can help decide if your pet needs to be seen right away, or if your pet can be seen on an appointment. Some veterinarians may be able to fit in an urgent appointment at short notice.  
Examples of urgent illnesses/injuries that may be able to be seen by your pet's veterinarian include: 
Ear infection and skin complaints
Small cuts and minor injuries
Upset stomach
Weight loss
If your veterinarian is unavailable or you simply would prefer to come to DoveLewis, we are here to help. To expedite the check-in process for our ER, pre-register your pet using our veterinary portal.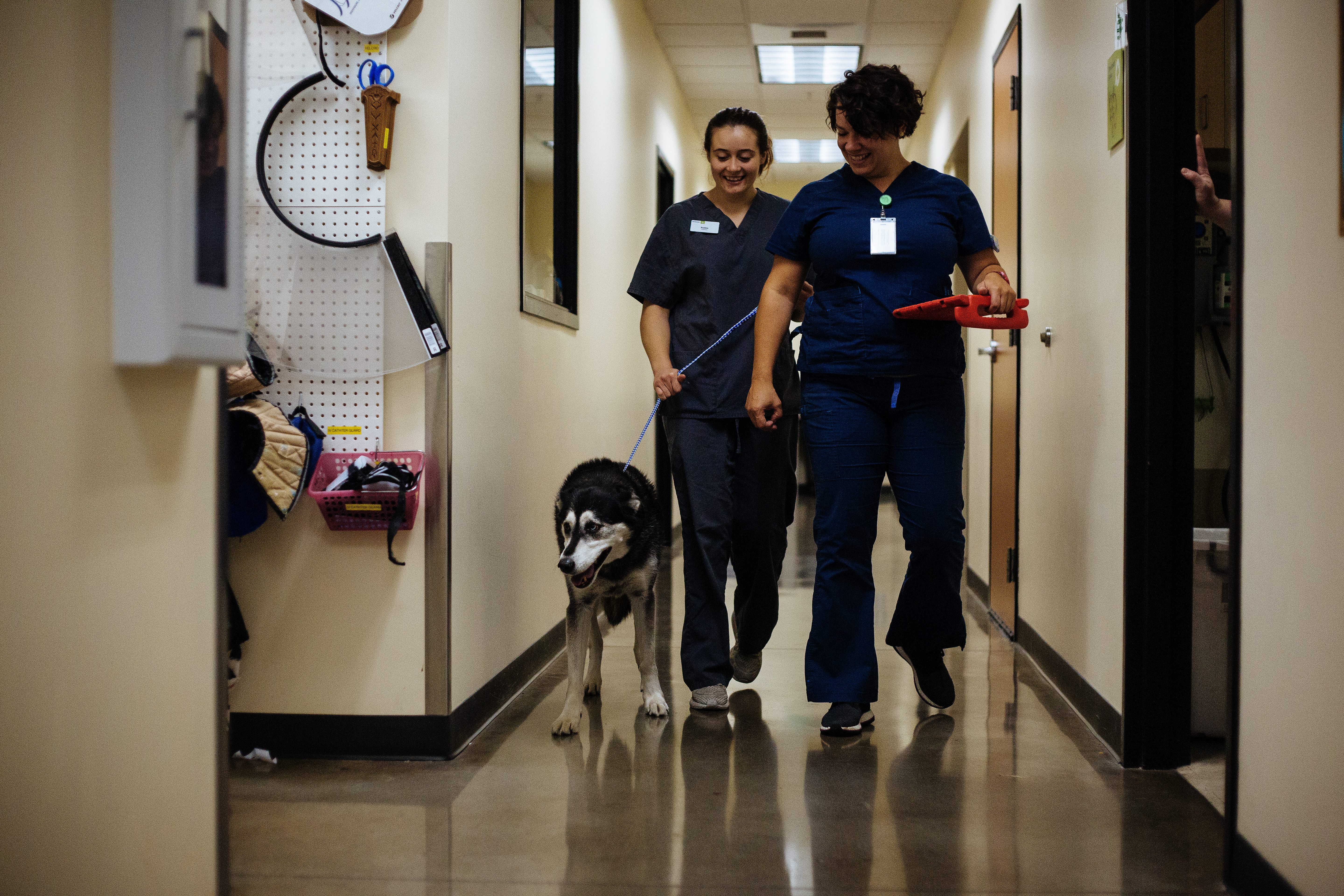 Why we can't give advice over the phone
Emergencies are serious, and recommending a treatment plan is a sensitive process that starts with an in-person exam. We don't give medical diagnoses, advice or estimates over the phone or through email because we must see and touch our patients to give them the best veterinary care possible. 
How an exam can help
One of the hardest parts about veterinary medicine is that our patients can't speak. So the simplest way to understand what's wrong is to see and feel your pet. Physical exams help our veterinary teams made up of doctors and technicians understand the extent of your pet's condition. If your pet needs emergency veterinary care, but you are concerned about your health, please call our ER team so we can coordinate an alternative check-in process with you and your pet. Learn more about how we're adjusting our processes to stop the spread of COVID-19. 
---
We treat 25,000 patients a year and we've seen it all. 
Top 10 Reasons Why Animals Visit Us
Vomiting, diarrhea and other intestinal issues account for the largest percentage of patients treated in an emergency hospital. 
Vomiting, diarrhea and other intestinal issues
Ingesting inappropriate items
Wounds and lacerations
General pain and discomfort
Urinary tract issues
Respiratory issues
Trauma (falling, broken or fractured bones, hit by car, etc.)
Cancerous and non-cancerous masses
Allergic reactions
Seizure
Top 10 Items Ingested by Animals
Last year, patients ate more than 150 types of food, objects and other inappropriate items that caused illness or injury. 
Chocolate
Marijuana
Human or animal medication
Grapes or raisins
Chicken bones or other meat bones
Socks
Dog or cat toys
Rat poison or pesticides
Plastic (toys, dishes, bags, etc.)
Lilies