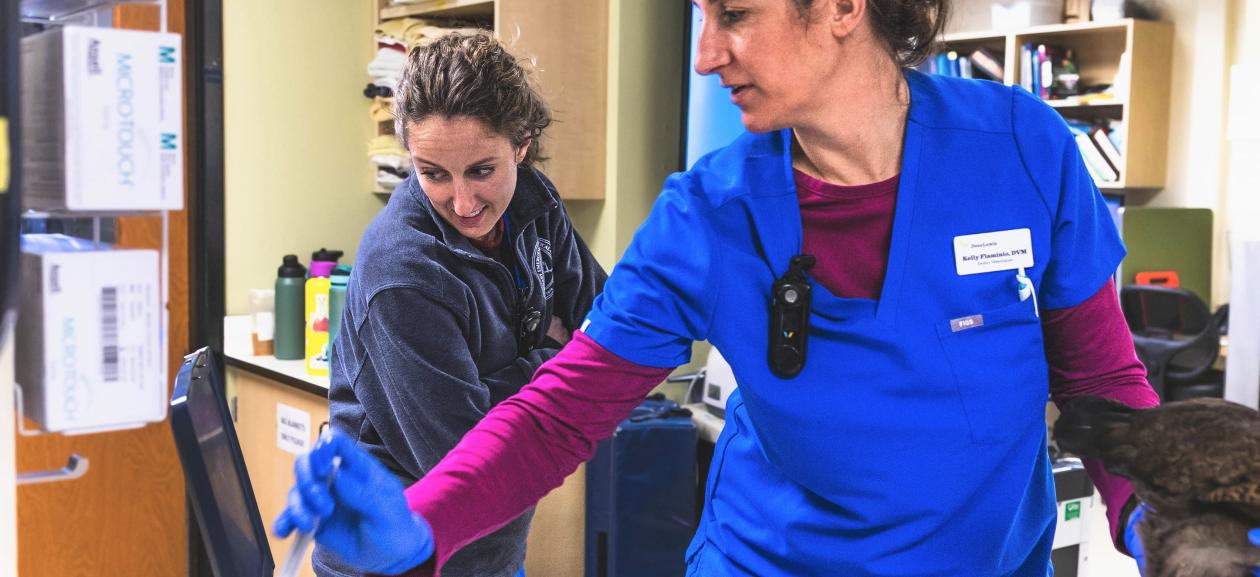 Different Types of Veterinarian Jobs at DoveLewis
There are many different types of veterinarian jobs in the industry and DoveLewis has quite a few under our roof! 
Some of the most common types of DVM jobs include:
Emergency Veterinarian: DoveLewis is an emergency and specialty hospital that works collaboratively together to ensure that patients can be transferred between our ER/ICU and on-site Specialists to ensure the highest level of emergency and critical care for walk-in and referral patients. Emergency veterinarians play a crucial role in providing immediate medical care to animals in need, and their knowledge and quick actions help them to quickly assess and stabilize animals that are experiencing a variety of medical emergencies.

Board-Certified Veterinary Criticalist: At DoveLewis, we have 7-day Criticalist coverage to provide additional support and expertise to our ER and ICU teams. Veterinary Criticalists play a crucial role in the treatment of critically ill animals, and are essential in helping these animals to recover and regain their health. These professionals are experts in emergency and critical care medicine. To become a veterinary criticalist, a veterinarian must complete an additional 3-4 years of specialized training beyond their initial DVM degree. They will also gain experience working in intensive care units and emergency clinics, and they may be involved in clinical research projects.

Exotic Animal Veterinarian: These veterinarians specialize in working with exotic animals such as birds, reptiles, and primates. At DoveLewis, we have an exotics care team that offers appointments that clients can book online and shares their extensive knowledge to help and teach our teams on the floor.

Board-Certified Veterinary Specialist: In our hospital, we have 14+ board-certified veterinary specialists who offer consultations and work on cases with you from a variety of departments including Critical Care, Surgery, Internal Medicine, Neurology, Cardiology, Dermatology, Allergy, and Otology, and Radiology. Board-certified veterinary specialists play a crucial role in the veterinary field, providing advanced care and expertise in specialized areas of veterinary medicine. A veterinary specialist is a veterinarian who has completed additional education and training in a specific area of veterinary medicine and has passed a rigorous certification examination. The certification is granted by a specialty board that is recognized by the American Veterinary Medical Association (AVMA).

Urgent Care Veterinarian: An urgent care veterinarian is a trained professional who provides medical care for animals with urgent or emergency medical needs. These veterinarians care for lower acquity cases that typically would have much longer waits in an ER. At DoveLewis, we have an Urgent Care team that offers appointments that clients can book online and works alongside the emergency veterinarians to fast track cases from the ER as needed and assist fellow DVMs while on the floor.

Rotating Veterinarian Internship: Not only are we a nonprofit emergency and specialty hospital, but we're also a teaching hospital too! Our AAHA-accredited Internship program helps interns become competent and skilled at patient assessment and care, build diagnostic and treatment plans, learn how to navigate through complex in-hospital cases and communicate effectively with clients and colleagues. We view veterinarian internships as a critical step to becoming a successful veterinarian capable of adapting to many roles in the future. Want to learn more about the internship experience? Hannah Marshall, DVM, DACVECC, discusses the importance of finding the right internship program for you, and what interns can look forward to at DoveLewis.
Plus, team members are welcome and encouraged to pursue other certifications if that's something you want to pursue as well, with some of our current team members having certifications in Fear Free, Hospice Care, Integrative Pain Management, and RECOVER CPR.
We are not able to do what we do and help who we help without our DVMs. That's why as an organization, we support our teammates and have created a community that is focused on collaboration, community, and learning.