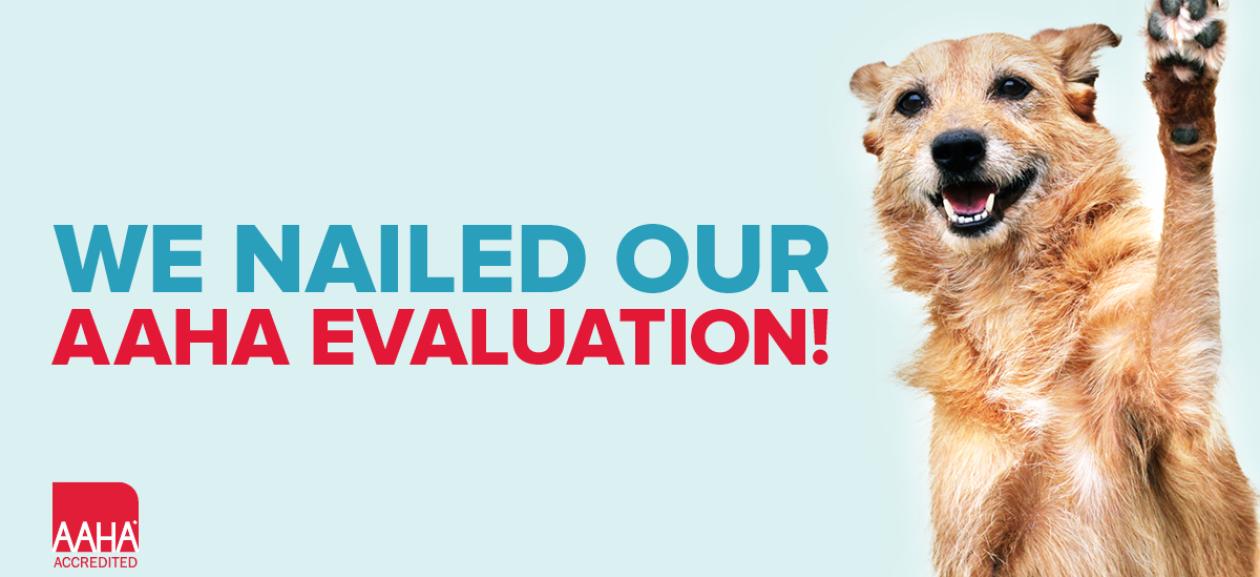 Better Care for Pets: AAHA-accreditation at DoveLewis
What is AAHA Accreditation?
An accreditation from the American Animal Hospital Association (AAHA) signifies that a veterinary practice has met or exceeded the strict quality standard. Meeting AAHA accreditation standards is voluntary for veterinary practices. As of 2023, only 15% of veterinary practices in the US and Canada hold an "AAHA-accredited" designation.  During a thorough evaluation, practices are evaluated on nearly 50 standards. These standards cover patient care, the facility, services, and clinical protocols.
To be considered all practices must meet standards in the following areas:
Anesthesia

Dentistry

Emergency & Critical Care

Human resources

Laboratory

Medical Records

Pain Management

Patient care

Pharmacy

Surgery
What is the process to become AAHA accredited?
Many veterinary practices met a high standard of care without an accreditation, this accreditation ensures that as a practice we are putting the extra time, effort, and resources toward ensuring every patient receives the quality care they deserve. To earn this accreditation, a veterinary hospital must meet the following criteria:
Measure up to more than 900 standards of care across 18 categories

Spend three months corresponding with AAHA's accreditation team in preparation for the evaluation day

Undergo accreditation evaluation by an AAHA consultant

Remain accredited through periodic reevaluations
But the work doesn't stop once we a veterinary practice earns their AAHA accreditation. Practices must continue to meet exception care standards to maintain their accreditation. This ensures that they are continuing to stay on top of changes in veterinary medicine and technology. 
AAHA Accreditation at DoveLewis
As of February 2023, DoveLewis has been re-certified as an AAHA-accredited hospital and specialty care facility. Our team worked extremely hard to pass in every area we submitted to be accredited which includes:
Emergency Critical Care

Cardiology

Surgery

Radiology

Dermatology, Otology & Allergy*

Neurology

Internal Medicine
Including the first time ever, our reviewer has passed an organization in the Internship category!
The AAHA standards are fundamental to how DoveLewis runs every day. In most cases, we see animals during the scariest times of their lives, when they are in desperate need of emergency care or turn to our specialty departments for answers their families have not been able to find. We look to these standards to guide us as we strive to provide exceptional care for all animals and the people who love them. DoveLewis is proud to be an AAHA-accredited veterinary facility, and will continue to hold ourselves to the highest standard of pet care.
DoveLewis is proud to be Oregon's only nonprofit, 24/7 veterinary emergency and specialty hospital. We're committed to our mission to care for every animal and every person who care for them, always. If you're considering a job in veterinary medicine, look at DoveLewis' listings for veterinarians, veterinary specialists, technicians, and more to join a team that strives to better care for pets and their people.
Become a Part of the DoveLewis Team
The AAHA Difference
In human healthcare, accreditations are required but that is not the case for animal care. Accreditation of animal hospitals is entirely voluntary. Practices that choose to work hard to earn this accreditation do so because they want the best for their patients and clients. Meeting the high standard of care that are a part of the AAHA accreditation gives pet owners piece of mind knowing the high level of care their animals will receive even before they step foot in our building. 
*PLEASE NOTE: As of June 30th, 2023, our dermatology service will close. We are very sad to be losing Dr. Zabel's talents within our hospital but are grateful that she is staying in the Portland Metro area. We will continue to send dermatology cases to her that come through our emergency or other specialty services.
You can reach her at sonjazabel@web.de if you wish to be added to an email list for updates on her new endeavors in Portland.
Thank you for your understanding and support.