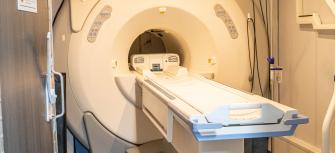 Neurology
DoveLewis' team of board-certified neurosurgeons can support your patient's medical and surgical needs. To refer a patient, call Specialty Reception at 971-255-5995 or view real-time availability by clicking the "Appointments" tab.
What procedures will our neurology team perform regularly? 
    

MRI scans of brains and spines

    

CSF taps post MRI or as recheck based on previous results 

    

Hemilaminectomy

    

Ventral slot

    

Dorsal laminectomy 
State of the art equipment, like our new 1.5 Tesla MRI and 64-slice CT, gets us incredible imagery to help with the diagnosis and treatment of our patients.
Refer a Patient
Request tools and materials that can help your clients understand veterinary neurology, our process, and more.
Request Materials
We send emails that are relevant to you, your team, and your patients. Sign up for updates regarding our services, including when the opening of neurology appointments.
Get Updates
About Our Board-Certified Team