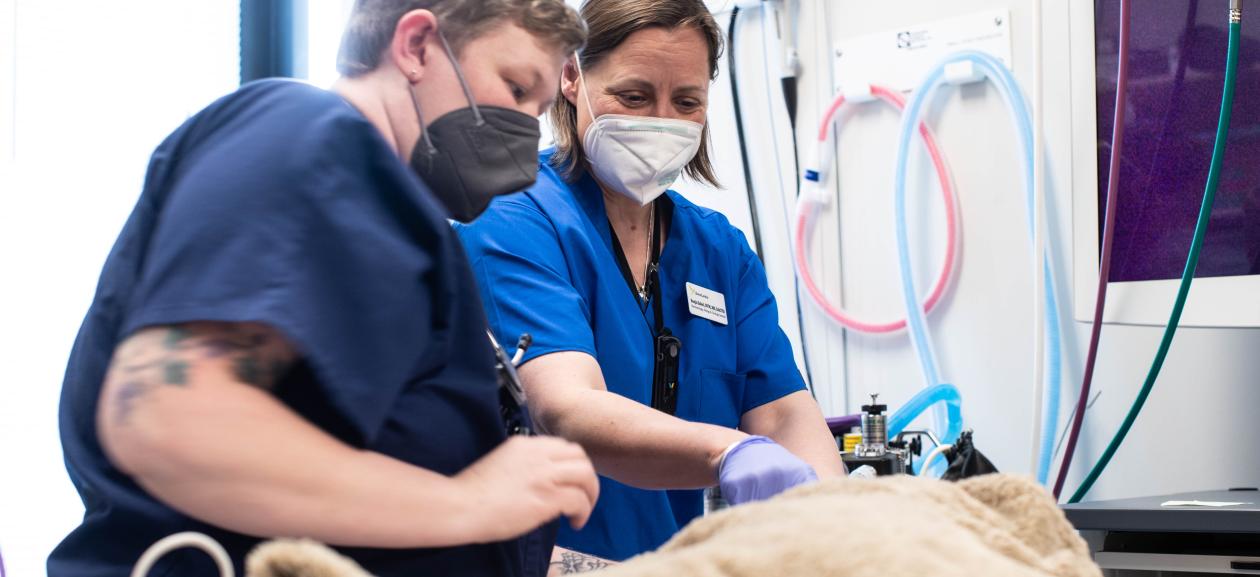 Collaboration Over Corporation
How working at a local veterinary nonprofit rather than a national chain can make a difference to your day and your veterinary career.
As a nonprofit, DoveLewis doesn't have shareholders or investors looking for a payout. We invest any earnings and donations back into the organization's services, staff, and resources.
50 years ago, local veterinarians and animal lovers established DoveLewis as a nonprofit because they wanted an emergency veterinary hospital that truly served the community. Unlike for-profit businesses, DoveLewis is governed by a volunteer Board of Directors. They are businesspeople and local veterinarians who are committed to DoveLewis' mission:
We care for every animal and every person who cares for them. Always.
If you're looking for a veterinary job, it's important to understand how your employer earns revenue, allocates resources, and makes decisions. Learn more about how being a nonprofit sets DoveLewis apart as a veterinary clinic.
---
Local veterinary leadership means your voice won't get lost in the corporate ladder.
No more catching up with supervisors on the state of your clinic or muddling through national protocols. DoveLewis' focus is on the community it serves, and all our team members—whether executives, veterinarians, veterinary technicians, or client service roles—are part of that community.  If you're looking for a veterinary job or a job at an animal nonprofit, ask about your management team. Picking the right type of veterinary management team for your next job could make a difference to you!
You have plenty of opportunities to be heard, to learn, and to grow.
DoveLewis is a community-focused animal nonprofit and our staff is part of that community, as well. We listen to each other, problem-solve together, and respect each other. As someone who works in veterinary medicine, that's valuable for your own well-being. DoveLewis is a single-location veterinary hospital, but there are plenty of ways to advance your career and build your skills.
We have internal internships to gain experience in other career areas or understand the organization in a different way. (Read about Client Service Lead Rebecca's internship with the marketing team!)

We're the home of atdove.org, a platform that trains thousands of veterinary professionals across the country. You can get involved by sharing your skills!

We prioritize teaching, learning, and training with dedicated CE budget, on-side CE events, wet labs, and workshops.

Committees and Affinity Groups are great ways to expand your role in the organization and make a difference to our mission.
The whole team is local, including business teams like marketing, HR, accounting, programs, and more. Plus, as a specialty veterinary hospital, DoveLewis is home to 14 board-certified veterinary specialists.
With an all-local staff, you have the chance to get to know (and become) the influencers and leaders of your clinic. At DoveLewis, it's not uncommon to see the CEO on the ER floor or watch the Chief of Staff operate on a patient. You know their name and they know yours. Learn more about what working at a single-location, high-volume veterinary hospital is like.
DoveLewis is proud to be Oregon's only nonprofit, 24/7 veterinary emergency and specialty hospital. We're committed to our mission to care for every animal and every person who care for them always. If you're considering a job in veterinary medicine, look at DoveLewis' listings for veterinarians, veterinary specialists, technicians, and more.