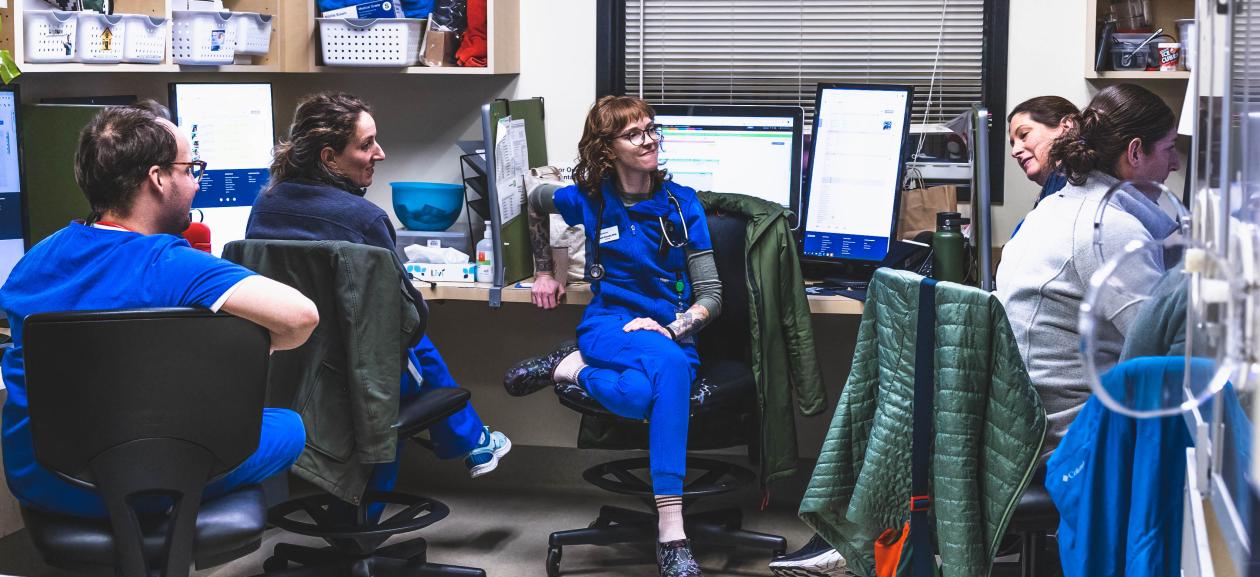 One Roof, Many Lessons: How Can You Learn More by Having Local Teams?
DoveLewis' team is made up of 200+ people who operate under a defined set of values, including "improvement." What does that mean?
"Continuous improvement is our oath to being better than ever. It's about taking the necessary steps, every day, to be a better business. To be here when we are needed, whenever we are needed. To be better community partners, better listeners, better providers of care at all costs. Because better care is the bottom line." See all of DoveLewis Values.
We know that we are stronger together, and when you have a staff of passionate, talented people, it's exciting to work toward a common goal. Here are just a few ways that our teams' partner to learn and improve, taking us one step close to DoveLewis' Vision.
Board-certified veterinary specialists, area experts, and staff members partner on cases together. DoveLewis has board-certified veterinarians and specialty veterinary technicians focused on the following areas:

Anesthesia & Analgesia

Cardiology

Emergency & Critical Care

Internal Medicine

Neurology

Radiology

Surgery
Plus, some team members have certifications in Fear Free, Hospice Care, and Integrative Pain Management, and RECOVER CPR.
Business teams work together to tell the community about DoveLewis' mission and services. This year, thanks to the hard work of communication and fundraising staff, we raised $80K in one day through the Day of Giving televised event!
CSRs, technician trainers, and atDove team members advance the veterinary education across the country!  Our technician training kits help clinics standardize their onboarding processes and advance their team member's skills. We're regularly filming our veterinary procedures, treatments, and skills and using atdove.org for our own team's training. Helping create short videos with us is a great way to show off your skills and help other veterinarians, technicians, and veterinary assistants learn from you.
Internal internships let you work in a different department for a few weeks. Rebecca is a Client Liaison and she did a two-week internship with DoveLewis' marketing team so she could learn more about marketing—both as a career option and how those team members support the hospital. Read more about Rebecca's experience.
We prioritize teaching, learning, and training together. As a teaching hospital with the country's first AAHA-accredited internship, this is core to who we are. Our staff includes dedicated trainers for veterinary technicians and technician assistants, as well as growth opportunities for veterinarians. Add to that a CE budget, on-site CE events, wet labs, and workshops, you'll grow tremendously during your time at DoveLewis.
We like to leave DoveLewis each day better than how we found it, and we work together to do that. If learning on the job and building collaborative relationships is important to you, explore the job openings for veterinarian jobs, technician jobs, and business jobs at DoveLewis.