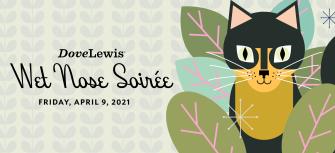 Wet Nose Soirée 2021
Online - Stay Tuned for More Details
Primary Sponsor

Supporting Sponsors








Wet Nose Soirée 2021
Our pets mean the world to us. With their unique personalities and their unconditional love, they nestle into our hearts and lives to create a unique and untouchable bond. When a crisis strikes, they deserve the very best care possible.
Home is Where Your Pets Live
Please join us for this year's Wet Nose Soirée celebration, which will be broadcast live on Friday, April 9, 2021. Tune in to party with our CEO Ron Morgan, special guest Poison Waters, plus your whole family (furry members, too!) from the comfort of your own home.
Join the Party
Purchase a virtual ticket, which includes dinner and party favors delivered right to your door. The online auction will start on Monday, April 5 at noon and end Saturday, April 10 at noon.
This year has been tough. But pet emergencies don't care about pandemics, economic instability, or unemployment rates. DoveLewis is deemed an essential business and we take that responsibility seriously. We have made a promise to you and the animals in our community to be here always. We simply could not achieve this mission without you. The financial assistance programs at DoveLewis are also essential, taking care of animals when they have nowhere else to turn.
Will you pledge your support to help save them?
Learn more and purchase your virtual tickets at: dove.ejoinme.org/wetnosesoiree
Be a DoveLewis Sponsor
Find out more about our sponsorship opportunities for businesses here.