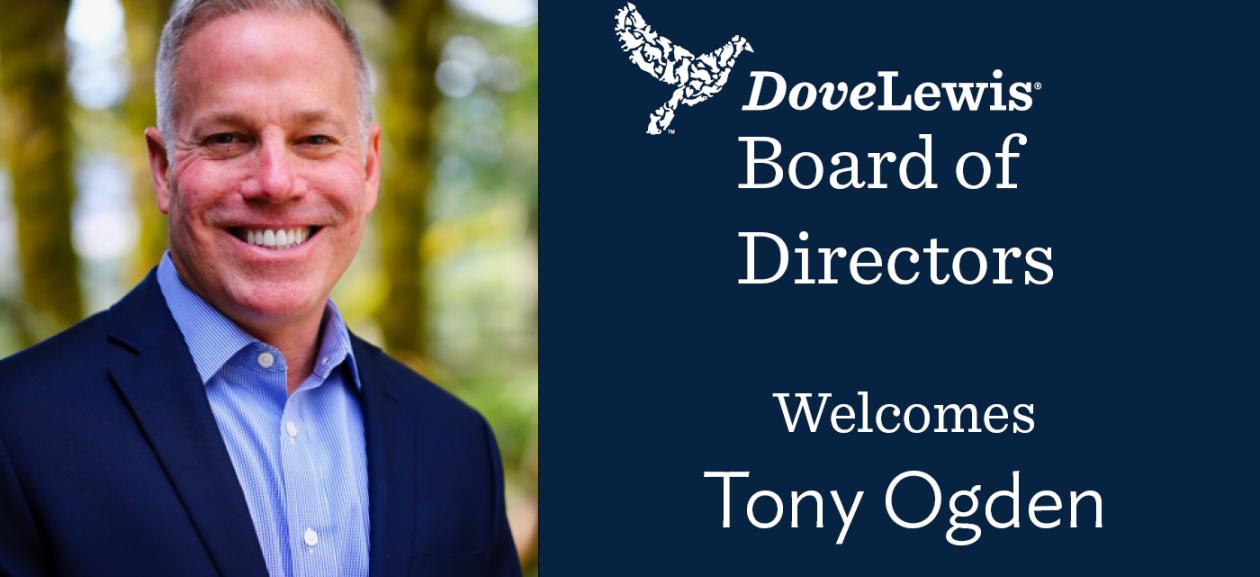 Bates Group's Chief Legal Officer, Tony Ogden, Joins Board of Directors
PORTLAND, Ore. – Tony Ogden, Chief Legal and Administrative Officer at the Bates Group has joined the DoveLewis Board of Directors.  Before joining the Bates Group, Ogden served as the Deputy Inspector General for the Board of Governors of the Federal Reserve System in Washington, DC.  His prior roles include General Counsel to the Inspector General at the U.S. Environmental Protection Agency, and Inspector General of the U.S. Government Publishing Office. Before joining federal service, Ogden served as the Litigation and Compliance Counsel for the Tobacco Project at the National Association of Attorneys General and is a former Colorado Assistant Attorney General.
His relationship with the Oregon nonprofit began in 2017 when DoveLewis' board-certified internal medicine specialist treated his dog, Brenna. It was during those visits that Ogden and his husband became enamored with the hospitals' mission to help animals and the people who love them—and he knew he needed be involved.
"DoveLewis is truly more than an emergency hospital.  The critical care and specialty services are crucial. DoveLewis is filling an obvious gap for families in our community and I am proud to support such an important organization," said Ogden.
Initially a steadfast philanthropic supporter, his commitment to the hospital's services has only grown, culminating in his appointment to the Board of Directors.
Ogden joins 14 community members with corporate and veterinary backgrounds alike. Chaired by Scott Bontempo, Senior Operating Executive at Human Capital at Welsh, Carson, Anderson & Stowe, the team is focused on the growing needs of the Northwest's animal population and DoveLewis' undeniable role within in. In the last three years, the hospital has experienced a 27% increase in patients and is in the final stages of an 8,500 square foot expansion to accommodate the current patient load and pave the way for the future of veterinary medicine in Oregon. This year alone, the veterinary team will care for over 25,000 patients.
DoveLewis is Oregon's only nonprofit emergency animal hospital and the only VECCS Level 1 facility in the state. Its donor-funded programs support thousands of people and animals, including one of the country's largest volunteer-based animal blood banks, a nationally recognized pet loss support program, animal-assisted therapy, 24-hour stabilizing care for lost, stray, wild and abused animals, and financial assistance for qualifying low-income families. 
"Our work is only possible with the support of energized people like Tony. His appreciation for the role animals play in our lives is admirable, as is his commitment to our community." said DoveLewis President & Chief Executive Officer, Ron Morgan.  
##