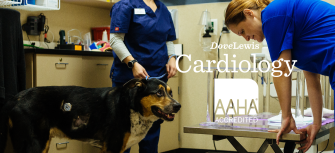 Cardiology Care for Pets
What's more important than the heart? Our board-certified cardiologist is devoted to the treatment of diseases and abnormalities of the heart, working closely with primary veterinarians for the most comprehensive pet care possible. How can she help you?
What is a board-certified cardiologist? 
A board-certified veterinary specialist is a veterinarian who has completed additional training in a specific area of veterinary medicine and has passed an examination that evaluates their knowledge and skills in that specialty area. Veterinary cardiologists diagnose and treat conditions of the heart and circulatory system.
What are common reasons patients see us? 
Cardiac (heart) failure
Cardiac arrhythmias
Cardiac murmur
Congenital heart disease (birth disorder)
Acquired heart disease
Respiratory (breathing pathway) disease
Hypertension (high blood pressure)
Hypotension (low blood pressure)
Heart infections, such as heart worm
About Our Board-Certified Team
Dr. Reynolds' particular dedication to cardiology, on top of her commitment to enhancing the level of veterinary care around the world, make her a perfect fit for our team of specialists. Meet the doctor who keeps animals' hearts healthy year-round.