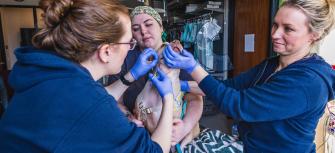 CE Lecture: Technician IVECCS Review
CE Lecture: Technician IVECCS Review
Technician IVECCS Review
October 19 at 6:00 PM PT
In-person at Lucky Lab Beer Hall on NW Quimby St
Missed IVECCS this year? Join DoveLewis Technicians as they recap lectures presented at the 2023 IVECCS conference. Speakers include Blood Bank Coordinator Kelsey Reinauer, CVT, and Specialty Technician Manager James Reid, CVT, VTS (Anesthesia & Analgesia), and many more.
---
The event is approved for 1.5 Oregon Technician CE credits.
If you have questions, please contact us at questions@dovelewis.org.
Want to hear about more opportunities like this? Click here to join our email list to receive news about upcoming lectures and events.