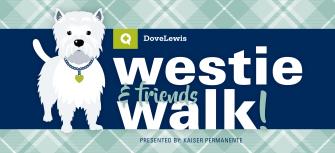 Westie Walk
Primary Sponsor

Westie Walk
After 20 wonderful years, we have decided to retire the Westie Walk. This was a difficult decision for us. However, with expenses for this event continuing to rise, we feel that our resources and energy would best be directed toward other fundraisers for DoveLewis. 
If you're looking for a great dog-friendly event this year, please consider bringing your Westie to Dogtoberfest!
FOR QUESTIONS, PLEASE CONTACT:
events@dovelewis.org  |  971-255-5928.