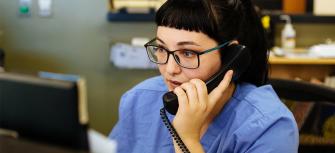 Third Thursday Rounds - October, 2019
Third Thursday Rounds - October, 2019
Stop Talking About Marketing
with Marketing Director Tess Payne
People are complex creatures, and figuring out how to reach them can be a beast—especially on a budget. From understanding Millennials and their pets to simple day-to-day experiences, sometimes forgetting about "marketing" is the best thing you can do! 
Thursday, October 17th
Albers Mill, 1200 NW Naito Pkwy, Portland, OR 97209
7:00 p.m. – Wine, beer and tacos
7:30 - 8:30 p.m. – Lecture 
---
We invite all doctors and support staff in the community to attend our 3rd Thursday Rounds. Attendees receive one Oregon CE credit (approval pending) for each meeting. DVMs cannot earn CE credit by attending technician lectures, but technicians can earn CE credit by attending DVM lectures.
Rounds cover all topics in veterinary medicine. DVM lecture topics are geared towards veterinarians, while our technician lecture topics are geared toward technicians and support staff. Technicians and support staff are welcome to attend DVM lectures and vice versa. DVM and technician lectures rotate monthly (unless a management topic is being offered instead). At least two management lectures are offered per year.
Space is limited. Please RSVP online.
If you have questions, please contact us at questions@dovelewis.org or 971-255-5934.
Please sign up for our DoveReport email newsletter to be notified of our next lecture.