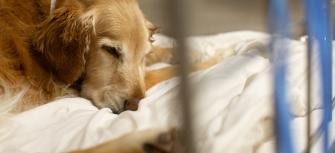 Third Thursday Rounds - May 2022
Third Thursday Rounds - May 2022
When The Bad Gets Worse: Oncologic Emergencies
Presented by Patient Care and Educational Specialist Sarah Harris, CVT, VTS(ECC)
May 19 at 7:00PM PT
Cancer is a common and often fatal diagnosis in veterinary medicine. However, cancer isn't the death sentence it once was. More and more owners are seeking treatment for their pets because they not only tolerate cancer treatments, but they often are able to maintain a good quality of life. This means we are likely to see and treat animals when they experience the sequela of emergencies that can occur secondary to cancer. 
In this lecture, a variety of oncologic emergencies will be discussed including hematologic, cardiopulmonary, and extravasation emergencies, tumor lysis syndrome, and more.
TO REGISTER FOR THIS VIRTUAL ZOOM LECTURE, CLICK THE "REGISTER TODAY" BUTTON ABOVE. YOU WILL THEN RECEIVE AN EMAIL WITH MORE INFORMATION ABOUT HOW TO JOIN.
---
We invite all doctors, technicians, managers and support staff in the veterinary community to attend our Third Thursday Rounds. This program has been approved for one hour of continuing education in jurisdictions that recognize RACE approval.
If you have questions, please contact us at questions@dovelewis.org or 971-255-5934.
Want to hear about more opportunities like this? Click here to join our email list to receive news about upcoming lectures and events.