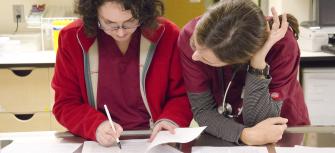 Third Thursday Rounds - May 2019
Third Thursday Rounds - May 2019
Addressing Compassion Fatigue and Burnout
with Shana O'Marra, DVM, DACVECC

Although there is a growing awareness of compassion fatigue and burnout in the field of veterinary medicine, most efforts have been focused individual self-care. In a field with widespread moral distress, where isolation only compounds the trauma, it's time to join together to address these issues. 
Join DoveLewis Chief Medical Officer Shana O'Marra, DVM, DACVECC, to learn strategies for addressing this problem in your clinic. Dr. O'Marra will also introduce the Balint process in anticipation of starting a new Portland-area veterinary Balint group.

Thursday, May 16, 2019
7:00 p.m. – Wine, beer and food
7:30 - 8:30 p.m. – Lecture 
 
*LOCATION* 
Lucky Labrador Beer Hall
1945 NW Quimby St., Portland, OR 97209
---
We invite all doctors and support staff in the community to attend our Third Thursday Rounds. Attendees receive one Oregon CE credit or one Washington CE credit. (Please note: DVMs cannot earn CE credit by attending technician lectures, but technicians can earn CE credit by attending DVM lectures.)
Rounds cover all topics in veterinary medicine. DVM lecture topics are geared towards veterinarians, while our technician lecture topics are geared toward technicians and support staff. Technicians and support staff are welcome to attend DVM lectures and vice versa. DVM and technician lectures rotate monthly (unless a management topic is being offered instead). At least two management lectures are offered per year.
Space is limited. Please RSVP online.
If you have questions, please contact us at questions@dovelewis.org or 971-255-5934.
Please sign up for our DoveReport email newsletter to be notified of our next lecture.