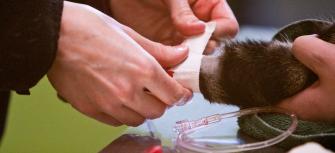 Third Thursday Rounds - July, 2019
Third Thursday Rounds - July, 2019
What's New in Veterinary Trauma Literature with Ladan Mohammad-Zadeh, DVM, DACVECC
Review updates in veterinary trauma literature with Critical Care Specialist, Ladan Mohammad-Zadeh, DVM, DACVECC. In this lecture, we'll specifically discuss insights gained from the VetCot Initiative and use of the Animal Trauma Triage Score.
Thursday, July 18th
Albers Mill Building (1200 NW Naito Pkwy, Portland, OR 97209)
7:00 p.m. – Wine, beer and tacos
7:30 - 8:30 p.m. – Lecture 
We invite all doctors and support staff in the community to attend our 3rd Thursday Rounds. Attendees receive one Oregon or Washington CE credit for each meeting. DVMs cannot earn CE credit by attending technician lectures, but technicians can earn CE credit by attending DVM lectures.
Space is limited. Please RSVP online.
Parking: Please park in a visitor spot (located near the front) in the Albers Mill parking lot. You may park for free in the visitor designated spots for up to two hours. Street parking is also available outside of the lot.
If you have questions, please contact us at questions@dovelewis.org or 971-255-5934. Please sign up for our DoveReport email newsletter to be notified of our next lecture.