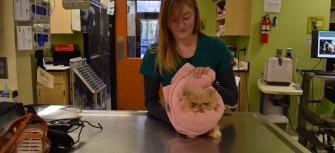 Third Thursday Rounds - April, 2019
Third Thursday Rounds - April, 2019
Brachycephalic Patients in Clinical Practice
with Certified Veterinary Technician Becky Smith, CVT, VTS
In this upcoming technician lecture, Becky Smith, CVT, VTS, will be discussing the special needs of the brachycephalic patients. Becky will review techniques and tips for preventing distress in a clinic environment, and the important role support staff play in patient comfort.
---
Thursday, April 18, 2019
7:00 p.m. – Wine, beer and pizza
7:30 - 8:30 p.m. – Lecture 
 
*LOCATION*
Lucky Labrador Beer Hall
1945 NW Quimby St.
Portland, OR  97209
We invite all doctors and support staff in the community to attend our Third Thursday Rounds (on the third Thursday of every month). Technicians will receive one Oregon CE credit or one Washington CE credit. (Please note: DVMs cannot earn CE credit by attending technician lectures, but technicians can earn CE credit by attending DVM lectures.)
Rounds cover all topics in veterinary medicine. DVM lecture topics are geared towards veterinarians, while our technician lecture topics are geared toward technicians and support staff. Technicians and support staff are welcome to attend DVM lectures and vice versa. DVM and technician lectures rotate monthly (unless a management topic is being offered instead). At least two management lectures are offered per year.
Space is limited. Please RSVP online.
Parking: Our parking lot is very small and fills quickly during weekends and evenings when our hospital is at its busiest. For that reason, we ask that you park on the street. We thank you in advance for leaving our parking lot open for DoveLewis emergency, ICU and specialty care patients and clients.
If you have questions, please contact us at questions@dovelewis.org or 971-255-5934.
Please sign up for our DoveReport email newsletter to be notified of our next lecture.