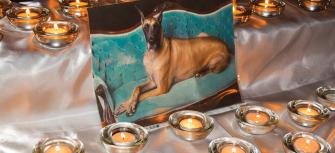 Service of Remembrance
Presented by

in partnership with the DoveLewis Pet Loss Support Program.
Join us for a special memorial service and candle lighting ceremony to honor the memory of your beloved animal companions. The undeniable impact that animals have on our lives is everlasting, and the annual Service of Remembrance pays tribute to that deep connection. Surrounded by those who understand this bond, this event brings our community together to commemorate those friends who are no longer here. Enjoy words of comfort from DoveLewis Pet Loss Support Program Director Enid Traisman, a personal message from a fellow pet owner, and music by Ian James and Brick and Mindy Street.
This is a FREE event. Service animals permitted.
FOR QUESTIONS, PLEASE CONTACT:
Jim Gabrio at jgabrio@dovelewis.org or call 971-255-5950.