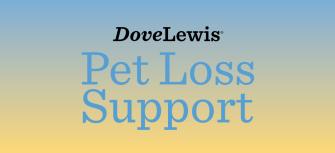 In-Person Pet Loss Support Group Meeting
In-Person Pet Loss Support Group Meeting
Please note that our meeting location has changed. This meeting will take place in-person at the Friendly House in Northwest Portland, OR.
The loss of a pet can be devastating. For many, this is a loss not only of a pet but of a best friend. Pets shared their lives, dreams, homes, and affections with us and because they touched our lives so deeply, DoveLewis believes they are deserving of our grief.
Grieving for a pet is a natural, normal, and personal process, and group support can be a helpful outlet. During each session, Debrah Lee, a licensed clinical social worker and the director of the DoveLewis Veterinary Well-being Program will lead the group in discussions that will open up opportunities to reflect, share, listen, and heal at your own pace.  
Please plan to join the meeting at the scheduled time to be respectful to those that are sharing. To respect everyone who is joining the group and sharing, we ask that participants commit to staying the duration of the meeting as it is scheduled.
Masks are welcome but not required at this time.
Monday, December 18, 2023 |  6:30-8:00pm (PT)
1737 NW 26th Ave Portland, OR 97210
For registrants, we understand that unexpected plans can affect your attendance at this event. Please email us at petloss@dovelewis.org if you are unable to attend so we can open the space to another who may be seeking the support of the group. Thank you!
Contact Us:
Email: petloss@dovelewis.org
Our Pet Loss Support program is made possible by the pet-loving community and by our generous donors. Donate today.
Please Note: This program is designed to help people who have experienced or are anticipating the loss of their pet. It is in no way a part of our Lost & Found Pet Database.