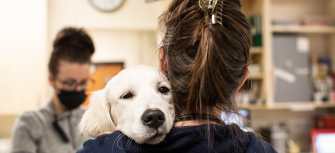 CE Webinar: Veterinary CPR Training
CE Webinar: Veterinary CPR Training
Veterinary CPR Training
Presented by DoveLewis Technician Trainer Jessica Waters-Miller, CVT
June 7 at 6:00PM PT
Join Jessica Waters-Miller, CVT, to learn about performing CPR in a veterinary clinic. All positions within a clinic are encouraged to attend this lecture to learn about their role in CPR. Technician Trainer Jessica Waters-Miller, CVT, walks viewers through the basics of CPR and covers instruction for team members working together, equipment needed, and roles.
Download Lecture Program + Notes
---
We invite all doctors, technicians, managers and support staff in the veterinary community to attend. This program has been approved for one hour of continuing education in jurisdictions that recognize RACE approval.
If you have questions, please contact us at questions@dovelewis.org or 971-255-5934.
Want to hear about more opportunities like this? Click here to join our email list to receive news about upcoming lectures and events.