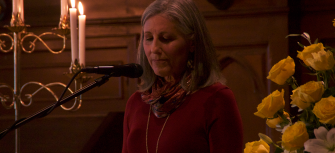 Pet Loss Support Program Founder
Enid Traisman is a true pioneer in the field of pet bereavement and counseling. She retired in December 2019. To say we will miss her is a huge understatement.
Enid Traisman is a pioneer in the field of pet loss support. Her work as the founder and leader of the DoveLewis Pet Loss Support Program has enabled countless people to heal their grief in a supportive environment for more than 30 years. Her compassionate spirit and love of animals led her to start the program in 1986. At that time, it was only the third program of its kind in the country – a time when feelings of grief over pet loss were not widely acknowledged by the veterinary community. 
Enid facilitated four monthly grief support groups, as well as a monthly memorial art therapy workshop. She also worked to educate and support pet owners and veterinary professionals about euthanasia, grief and compassion fatigue. She wrote the book "My Pet Remembrance Journal" to help grieving pet owners remember their beloved companion animals, and she helped lead an annual Service of Remembrance. Enid is also a talented glass artist and a master of arts and crafts.
After 33 years of dedicated service and incredible impact within the pet-loving community and the veterinary industry, Enid retired in December 2019.  Her footprint and vision for pet loss and staff compassion fatigue will continue to help people for years to come. 
"I know with every part of my being that with a little bit of support, validation and some tools to cope, that not only are these people going to heal from the grief they're experiencing, but very likely they'll grow from it."
Professional interests include: 
Grief counseling
Memorial art therapy
Self-care and wellness
Compassion fatigue education

EDUCATION and PROFESSIONAL MEMBERSHIPS:
Member of the DELTA Society and the Association for Death Education and Counseling
Portland State University - Masters in Social Work
University of Kansas - Bachelor of Arts