Pet Loss Support History
One of the first programs of its kind in the United States and the only one serving the Pacific Northwest, our Pet Loss Support Program has helped thousands of grieving pet owners in its 33 year history.


The Longest-standing Pet Loss Support Program in The Country
DoveLewis and Enid Traisman have helped thousands of grieving pet owners since 1986 with the founding of the Pet Loss Support Program. It was one of the first pet loss support program in the country and is now the longest standing.
"Early in my career, I noticed that pets were being more incorporated into the family. They were moving from the backyard to the bedroom," Enid said. "There was a disconnect when it came to caring for your pet and then grieving for them when they die. Pet owners were not given the space to grieve and heal."
---
33 Years of Honoring the Human Animal Bond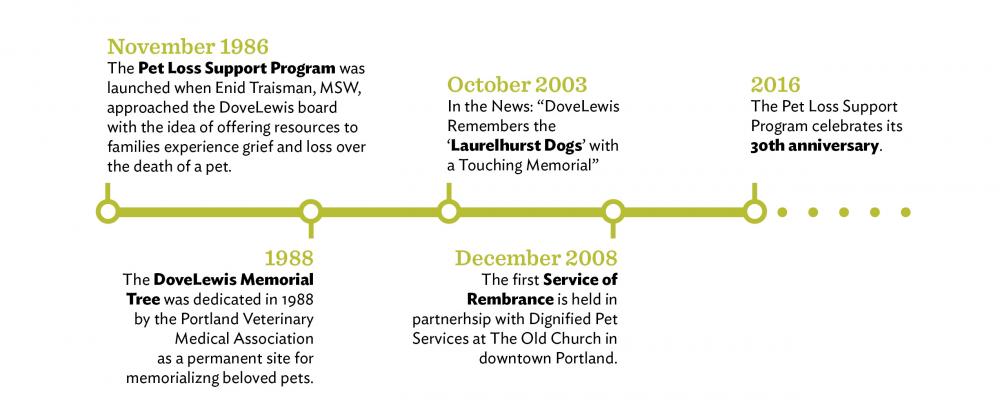 ---
Grieving a Pet Is Natural and Personal
For animal lovers who consider their pets an important part of the family, grieving the death of a beloved furry friend is difficult. DoveLewis' Pet Loss Support Program offers a variety of services to help pet owners navigate their grief. Recently, Enid started a free monthly Memorial Art Therapy Workshop as a therapeutic outlet and activity for people of all ages, including children. Enid, also a glass artist, incorporates cremated remains glass art and a variety of memorial crafts into each workshop.
"I truly feel that it's an honor to hear pet owners' stories about the amazing bond that they shared with their pets," Enid said. "I know with every part of my being that with a little bit of support, validation and some tools to cope, that not only are these people going to heal from the grief they're experiencing, but they'll very likely grow from it."
Meet Our Director of Pet Loss Support