Pet Loss Support History
One of the first programs of its kind in the United States and the only one serving the Pacific Northwest, our Pet Loss Support Program has helped thousands of grieving pet owners in its 30+ year history.


A Ground-breaking Program with Over 30 Years of History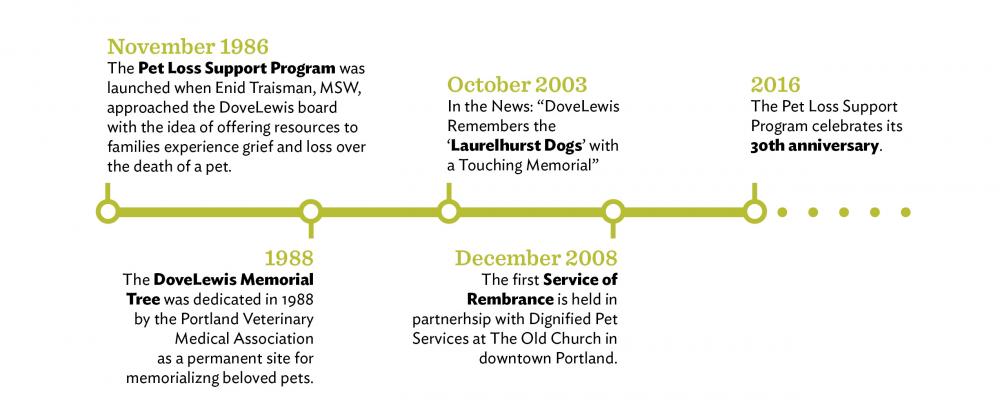 Over thirty years ago, DoveLewis launched the Pet Loss Support Program, an enduring and significant community initiative that would benefit both animal lovers and veterinary professionals for decades to come. The program was born in 1986 through the inspiration and effort of Enid Traisman, MSW. Enid was in the throes of graduate school at Portland State University practicing grief counseling in a neonatal intensive care unit when she was inspired after reading a book on bereavement and pet loss.
"At the time, the loss of a pet was still very much a disenfranchised form of grief – something people didn't talk about. Most people didn't get support, so the program was a very new kind of support," Enid said.
Less than a year later, she found a home at DoveLewis, where the leadership team felt the program could benefit both clients and staff as a complement to the hospital's emergency services. At the time, it was the third program of its kind in the entire nation and the first on the West Coast.
"Early in my career, I noticed that pets were being more incorporated into the family. They were moving from the backyard to the bedroom," Enid said. "There was a disconnect when it came to caring for your pet and then grieving for them when they die. Pet owners were not given the space to grieve and heal."
DoveLewis' Pet Loss Support Program is reaching beyond the hospital walls by providing coaching and instruction to veterinary professionals. Locally, the program supports training on empathetic communication with clients, compassion fatigue management, and maintaining a healthy work-life balance. Those same lectures and resources are shared nationally through the hospitals distance-learning site, atdove.org. Additionally, the program offers a self-care regimen for DoveLewis staff with a monthly art therapy program intended to reduces stress, assists in problem solving, and aids in building relationships. It is a crucial practice in preventing burnout for veterinary staff and ensuring outstanding animal care.
For pet owners, the program's free resources continues to be a powerful part of Oregon's pet-loving community with group counseling and the annual Service of Remembrance event where pet owners gather to memorialize and honor their lost pets. Memorial Art Workshops also act therapeutic outlets and activities for people of all ages, including children. 
"I truly feel that it's an honor to hear pet owners' stories about the amazing bond that they shared with their pets," Enid said. "I know with every part of my being that with a little bit of support, validation and some tools to cope, that not only are these people going to heal from the grief they're experiencing, but they'll very likely grow from it."
After 33 years of dedicated service and incredible impact within the pet-loving community and the veterinary industry, Enid retired in December 2019.  Her footprint and vision for pet loss and staff compassion fatigue will continue to help people for years to come.