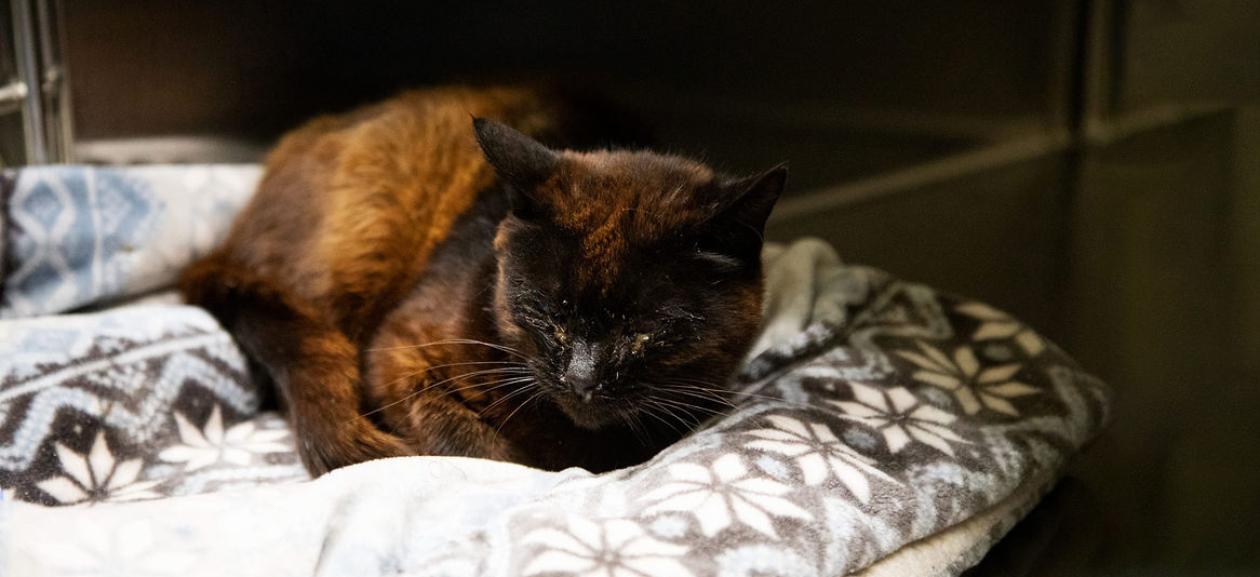 Fires can be devastating, and as pet owners, it's crucial to have a plan in place to protect our beloved pets. We all love our pets, and the last thing we want to think about is one of them getting hurt in a fire. Use our helpful tips to ensure that you and your furry friends are prepared for an emergency.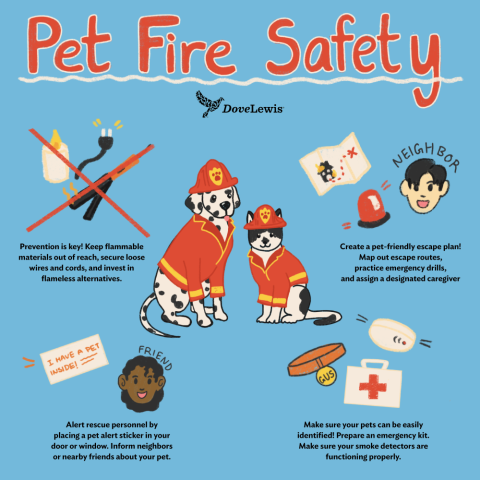 Download Social Media Infographic
 
Prevention is Key
Keep flammable materials out of reach: Avoid leaving candles, stovetops, or hot appliances unattended where curious paws can reach them.
Secure loose wires and cords: Prevent pets from chewing on electrical cords, which can pose a fire hazard.
Invest in flameless alternatives: Opt for flameless candles or electric diffusers to create a cozy ambiance without the risk of fire.
Create a Pet-Friendly Escape Plan
Map out escape routes: Identify multiple escape routes in your home and ensure they are easily accessible for both you and your pets.
Practice emergency drills: Regularly conduct mock fire drills with your pets and family or fellow housemates to familiarize them with the escape plan and increase their chances of a safe evacuation.
Assign a designated caregiver: Establish a trusted person close to your home who can assist in evacuating and caring for your pets if you're not home during a fire emergency.
Additional Important Tips
Smoke Detectors: When was the last time you checked the batteries in your smoke detector? A properly functioning smoke detector saves lives! This is your friendly reminder to check that yours are functioning properly.
Make sure your pets can be easily identified: Make sure your pets have collars with up-to-date tags. If they are not already, consider microchipping your pet. Make sure their information and registered with updated contact information, enabling a swift reunion in case of separation during a fire.
Prepare an emergency kit: Assemble a pet-specific emergency kit containing essentials such as food, water, medications, a leash, and a familiar toy or blanket to provide comfort during evacuation. Not sure what to include in an emergency kit? Check out our helpful video!
How to Alert Rescue Personnel
Place a pet alert sticker: Display a pet alert sticker on your front door or window to inform firefighters of the number and types of pets inside your home.
Inform neighbors or nearby friends: Share information about your pets and their locations with trusted neighbors or nearby friends, so they can assist in alerting rescue personnel if needed.
Consider Professional Home Monitoring
Install a monitored smoke alarm: Invest in a monitored smoke alarm system that can alert emergency services even when you're not home, ensuring prompt response in case of a fire.