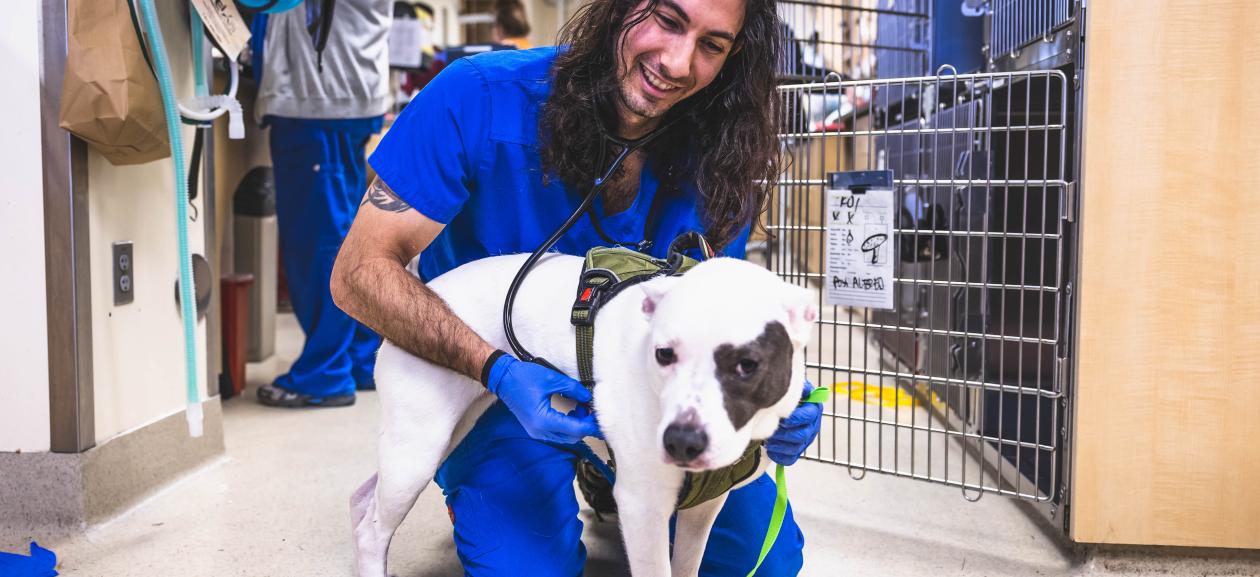 My Year as a DoveLewis Veterinarian Intern
My internship is coming to an end at DoveLewis Veterinary Emergency and Specialty Hospital, and reflecting on the past year, I can see significant growth in myself as a clinician. I came to DoveLewis with the hope to build on my fledgling knowledge base and learn from amazing veterinarians to practice the best medicine possible. I remember recognizing that Dove was unique before I even started. It is one of the only non-academic nonprofit hospitals and deals a lot with serving the limited resource community while still being a high-level referral hospital with an emphasis on emergency and critical care. You get a dichotomy of both the gold standard and the limited resource approach to medicine daily. While interviewing for my internship, I appreciated the collective experience and clinical knowledge of the veterinarians I would be working with. DoveLewis was my top choice of internship because this was a place I felt could advance my medicine to the highest level.
The unfortunate reality of veterinary medicine right now is that mentorship is often promised and seldom delivered. The field is desperate for veterinarians, and many will say anything to get you through the door. Internships used to be almost a requirement since new grads couldn't find work without one. Now every general practice or even emergency clinic is recruiting before you've even taken your NAVLE. Internships have become very much optional even for emergency veterinarians, and while understandable from a work-life balance perspective, it is worrying for the field.
While the rigors of an internship are challenging, to say the least, there is an important tradeoff for the sometimes overwhelming demands it places on you in the skills you come away with. An internship is certainly not the only way to gain valuable experience, but it is in my opinion the most effective and quickest to elevate your medicine to a solid well-rounded foundation to continue building off of. You're not going to become the greatest clinician overnight. It's very much one case at a time until you're able to learn the patterns, treatments, and procedures, that only come from years of experience. However, missing the foundation that a good internship provides may take you many more years to learn those lessons, and there may not be a safety net to catch the mistakes you don't realize you are making.   
Starting on the ER floor, in the beginning, can be a daunting and humbling experience as a fresh graduate. The pace and variety of cases are vastly different from the slow, controlled environment at an academic institution. Learning how to juggle multiple cases simultaneously, working efficiently, and above all moving quickly to stabilize incoming emergencies are vital skills to have that simply don't get developed in vet school. Having the confidence and knowledge of what to do in an emergency is something every veterinarian needs whether in emergency, specialty, or general practice. Now in the past year after having seen over 1,000 patients as a primary clinician here at DoveLewis, I feel I am ready for whatever walks (or is carried) through the door. We were always told in school, "Don't worry about the zebras" and "Common things happen commonly" referring to rare diseases and the unlikelihood of seeing them. In my experience over this past year, I've found there are a lot of zebras running around and the reality is you're going to see some very abnormal case presentations that don't fit the textbook on a regular basis. This internship has given me the ability to work methodically towards a diagnosis and start appropriate treatment even when I don't know what the disease process is. 
One thing I have gleaned during my time at DoveLewis is the room for error in veterinary medicine- especially with high caseloads and limited staff, among other post-pandemic issues. Not having guidance in complex cases allows for simple mistakes that can cause serious harm to patients. Having a senior clinician explain the nuance of complicated dynamics, like sepsis or renal failure fluid replacement, is invaluable to providing the proper care to these critically ill patients when first starting out in your career. Sadly, scrolling VIN for an hour for every case just isn't feasible, and learning from senior clinicians that have experience managing these cases helps avoid the pitfalls you may otherwise fall into. We will all inevitably have cases in our careers we will look back on and think "What else could I have done?" or "If only I thought to…", this is part of being a doctor. I believe the skills I have developed at DoveLewis have allowed me to recognize and avoid these situations before the point that nothing can be done.
There are a few things that set Dove apart from other internships. To start, there is a more reasonable work-life balance where you can still have time outside of the hospital with a schedule that is sustainable for the year (although by no means an easy one). Also, you are not regulated solely in the ER by yourself to fill shifts as cheap, intern labor. There is always another clinician present in the hospital to talk to and ask questions when you are on the ER floor. Even during overnights, you are never truly by yourself. DoveLewis is a place where you are in the trenches with the rest of the hospital team. Everyone from client service representatives to veterinary assistants, technicians, and fellow vets are dealing with the burden of being a clinician in the current climate. The comradery of that experience has forged some lasting friendships in and outside of the hospital. 
There is also support from Debrah Lee, LCSW, who runs the DoveLewis Veterinary Well-being program. In the industry right now, there's a lot of talk about "Not One More Vet" and raising awareness about suicide, negative work-life balance, and the mental health of veterinarians. I was a technician before transitioning to vet school and have worked at numerous hospitals in my 12 years in the field. Dove is the first place that has addressed these issues with more than talking and buying pizza for the staff. As an experienced professional employed full-time, Debrah supports every role here at DoveLewis, from doctors to clients, in dealing with the emotional distress of the hospital environment and losing a loved one.
Growing in this industry is a journey that only just begins after vet school. I would recommend an internship to anyone that has the drive and passion to practice better medicine. I would recommend an internship at DoveLewis to anyone that wants to achieve these goals alongside some truly exceptional people. 
If you're interested in learning more about the DoveLewis Veterinary Internship program, visit this page.