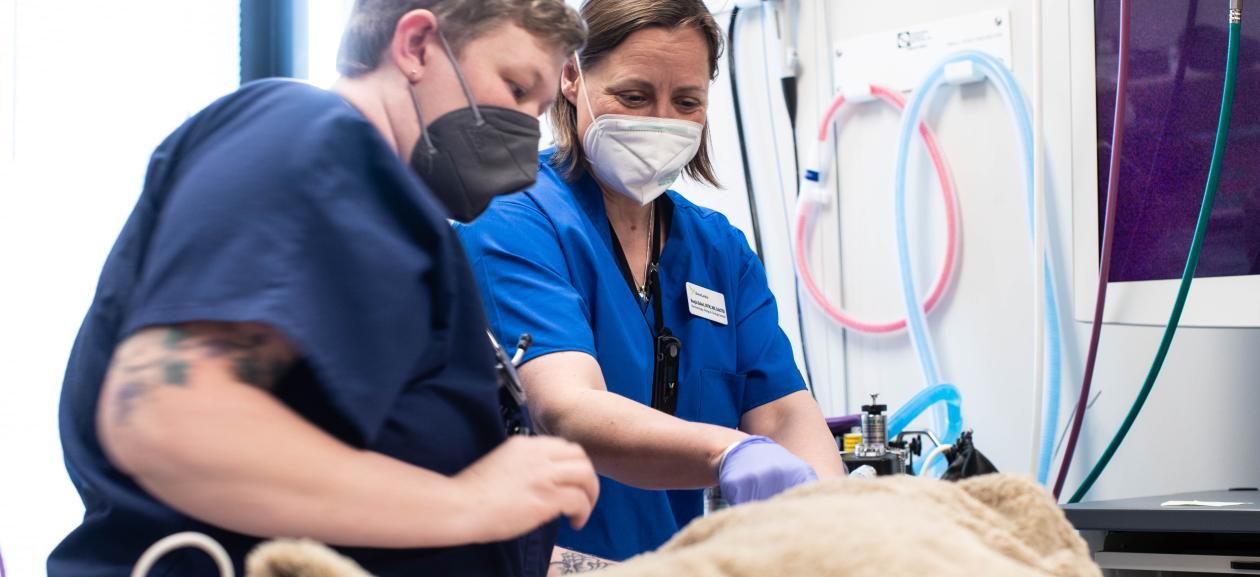 To Intern or Not: Your First Year After Vet School
Pursuing an internship can be a complex decision that requires a variety of considerations. While four years in vet school is a highly intense, overloading experience when it comes to education, training, and exposure, the true experience gathered during a clinical year pales in comparison to the type of skill and understanding of the profession when in your first years of practice. With the limited exposure to certain specialties, lack of consistency amongst training of fourth years in vet school, and over-exposure to highly unusual tertiary referral cases at a university-based hospital over standard illnesses treated on a day-to-day basis, it is easy to see how one is still seemingly unprepared to hit the floor running when first hired at a practice.
As a result, pursuing an internship in your first year of practice would appear to be an expected approach for new doctors to gather further experience in a well-controlled, monitored, supported setting. Unfortunately, the trend away from pursuing an internship seems to be gathering momentum as time goes on.
The pressure generated from low pay, intense hours, risks of burnout, overwork, and poor support has become the running tagline for reasons not to pursue an internship if you are not interested in residency training. Furthermore, the uptick in transition training programs that provide a few months of greater support prior to job onboarding has only minimized the need for a yearlong internship. While it can be enticing to avoid the tumultuous intern year with the ever-increasing costs of living and mounting debt, the benefits obtained in an internship in my mind are invaluable and irreplaceable compared to any other type of training. The old adage of, "I would never do my internship again, but will never forget that year" reigns true to many vets throughout the world. The skills, exposure, and support are insurmountable and intensely consolidated in one year compared to what you may gather in your first few years of practice. Furthermore, the ability to see a high caseload coupled with the mentor support available during an internship prepares you to provide the best quality of care with a structured system behind you in times of errors, complications, and litigation.
When making the decision to pursue an internship, it is important to truly understand the hospital, expectations, exposure, and mentorship established to decide the best fit for you. The number of available internships is only increasing as the years progress, and the ratio of too many internship programs to interns applied has been heavily skewed over the last three years, leaving hundreds of positions open after the VIRMP match is finalized. As a result, applicants generally have the upper hand in selection and can tailor their experience to what may fit them best. Accordingly, internship programs are growing, changing, and enhancing to move away from the old days of working interns into the ground into a new era of facilitating learning with a balance towards a higher quality of life.
At DoveLewis, our main goal in internship training covers a variety of approaches – ranging from high rates of case exposure to strong didactic learning to enhanced mental health and mindset training on the floor. In our program, interns are exposed to a variety of specialties, including Critical Care, Emergency Medicine, Cardiology, Surgery, Internal Medicine, Neurology, and Diagnostic Imaging. There is ample opportunity to travel outside the hospital for any specialties we may not be able to offer, and there is significant primary case management throughout the year with the ever-present support of senior staff members. There is never a time when an intern is left alone in the hospital, and our hospital leans heavily on a collaborative environment where support is available to all doctors on the floor from the specialty team. Independence is fostered throughout the year, providing enough support early on to allow these doctors to grow quickly in their abilities and confidence, lending to greater skill and strength on the floor at the end of the program. While you can do anything for a year, it remains important to acknowledge each individual's specific needs, mental health, and long-term career goals. Choosing the right internship is of utmost importance in establishing yourself in this profession and will be something you remember for a lifetime.
To learn more about the DoveLewis teaching mission and internship program, visit our website here.