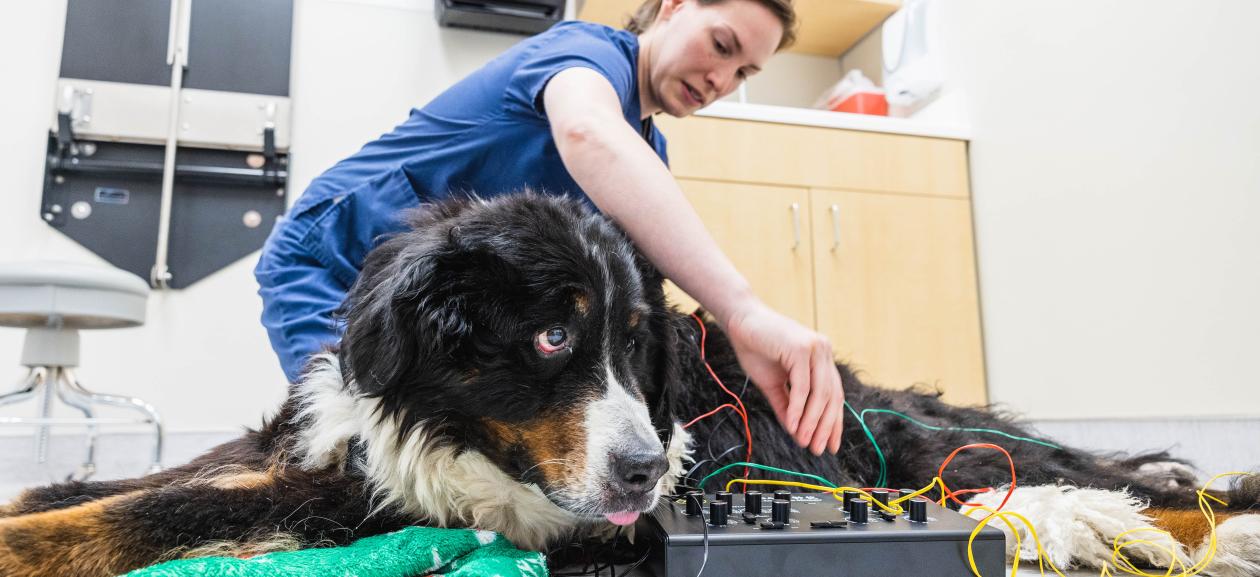 How DoveLewis Pain Management Made a Difference for Oskar
Oskar first started visiting Pain Management with Dr. Earl in February of 2021 after receiving surgery in 2020 to hopefully repair a slipped disc in his neck. Unfortunately, Oskar's spine did not respond well to surgery. He was crying out intermittently when he moved and was agitated at night, causing stress for both him and his family.
When Dr. Earl first met Oskar, he was visibly distressed and would not move out of one position laying on his side. After discussing his history and current therapy with his family at length, they created a plan together of what would be best for him, and his pain management journey began. Over the last two years, Oskar and his family have worked with Dr. Earl and the DoveLewis team to find what medications and pain management treatment will work the best for him. The addition of acupuncture and electroacupuncture has made a big difference in helping Oskar on his road to recovery.
Oskar's quality of life has improved dramatically over the past two years. He is more comfortable and able to spend time with his family. Oskar is now able to sit up comfortably on his own and while he has not returned to complete mobility, he is able with the assistance of a special harness to live a very full life. His family has a wagon so that Oskar is able to enjoy long walks outside with them. He also loves his family's adventures to the coast and throughout the Pacific Northwest. "A lot of Oskar's progress can be attributed to his family's exceptional level of care and attentiveness to Oskar's needs." says Jess Water-Miller, CVT, "It has been so meaningful to be a part of Oskar's pain management journey."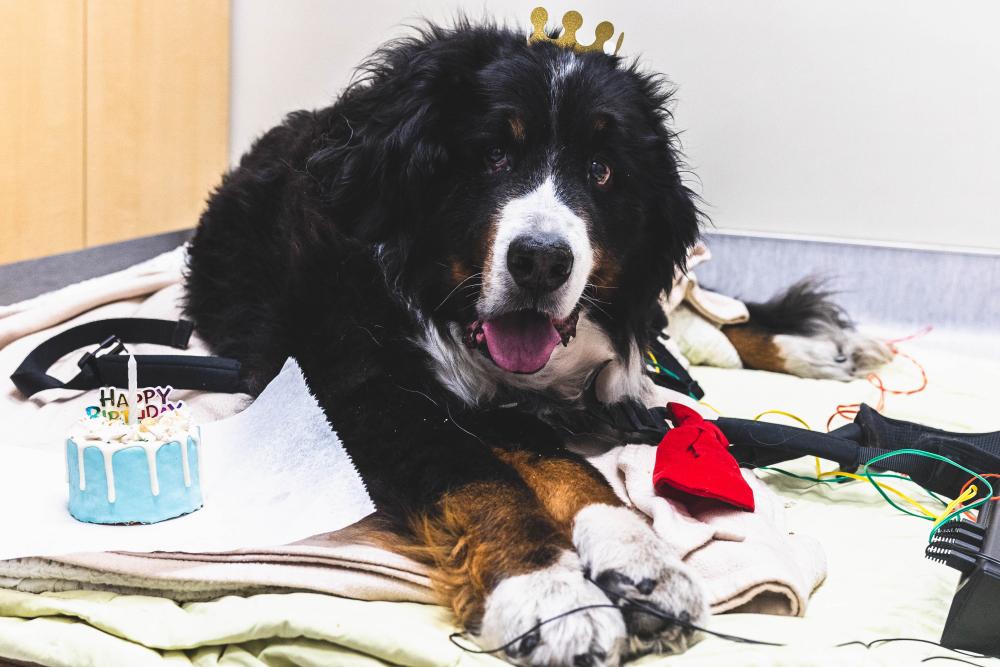 "Oskar is truly living his best life! It has been so wonderful to see his transformation."

- Jess Waters-Miller, CVT
Oskar knows the routine of his appointments and always looks forward to the Churu treats he receives during each session. Oskar's family shares that he starts barking in the days before his upcoming electroacupuncture session that they attribute to him asking for his treatment. He recently celebrated his 11th birthday making him a very handsome senior Bernese Mountain Dog and we presented him with his own Churu cake as part of that celebration. "Much of Oskar's progress is because of his family's attentiveness to him. They provide him with exceptional care." says Waters-Miller, "I look forward to visiting with Oskar and his family when they come in for his appointments. It's a real bright spot during my week."
 As we have learned from Oskar, pain management services can be of great benefit to pets who have difficult post-operative recoveries or pain that persists despite trying many medications. Acupuncture itself can serve as a valuable adjunct to comfort and mobility for animals as they age which are essential aspects of their ongoing quality of life.  Having your pet in the care of a pain specialist allows comprehensive pain management strategies to be used and adjusted for the greatest benefit.