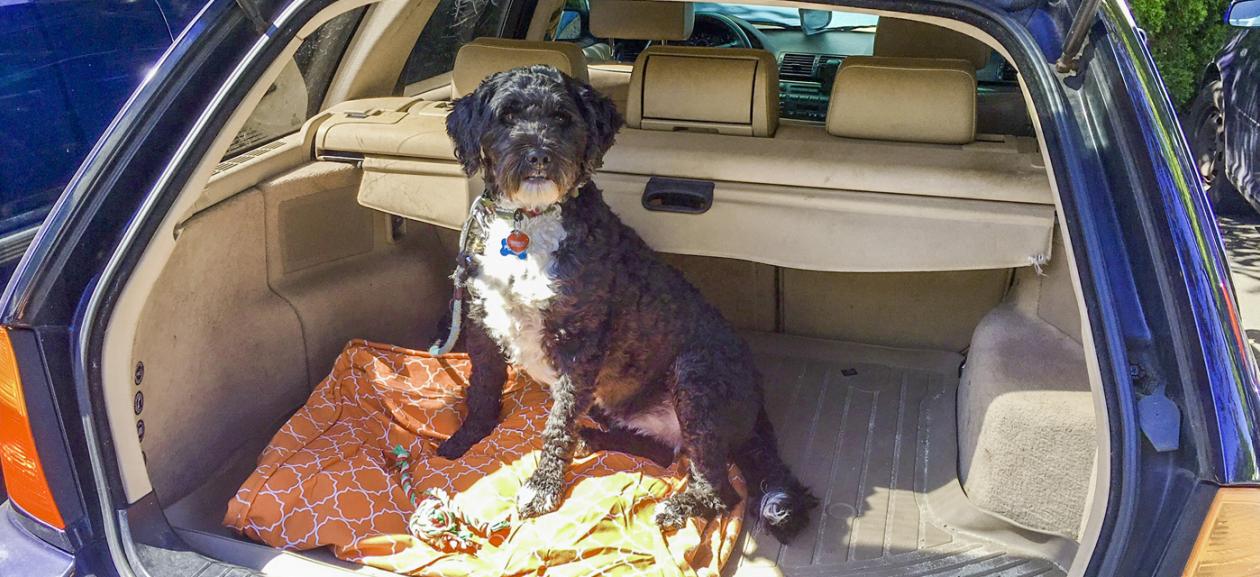 Everything You Need to Know to Enjoy a Road Trip with Your Furry Friend
It looks like summer has finally arrived in the Pacific Northwest! Road trips are a summertime staple, and everyone wants to bring their furry friend along for the adventure! Bringing your pets along on road trips can be fun, safe, and stress-free with some planning. While you start planning your adventure, check out our tips to help keep your trip safe and enjoyable.
Safely restrain your pets while your car is in motion.
Whether you choose a harness, crate, carrier, or pet barrier, it is very important to keep pets secured. Pets can be distracting to drivers if they roam the car, and unrestrained animals risk serious injury to themselves and other passengers in the event of a collision. Just like small children, pets should not ride in the front passenger seat to avoid injury from airbag deployment. Also, never let your pet ride in the bed of a truck without proper restraint.
Take test drives!
Get pets geared up for the trip by going on a series of short drives first, gradually lengthening the time spent in the car. Keep an eye out to see how pets react to riding in the car and being safely secured in a harness or crate. This is a good time to assess cage set-up or possible car sickness. Car sickness can often be prevented by feeding pets a light meal three to four hours before you leave.
Plan for pet-friendly stops
Make sure your travel itineraries include pet-friendly locations – hotels, restaurants, stores, and rest stops.
Research nearby veterinary care
Keep a list of multiple clinics along the way and at your final destination, and research the closest emergency or 24-hour hospitals for any emergencies.
Before you go
Regular check-ups with your vet are always important for your pet, but they are especially important before leaving on a trip. Take your pet in for a checkup at their regular vet before leaving on a long trip. Make sure all their vaccinations are up to date and ask for copies of the records. Veterinarians can also share knowledge about potential health risks at your destination and what preventive measures you should take to keep your furry friends safe.
What to pack
Before you leave, check weather predictions for your route and destination so you can pack for your pet's needs. Regardless of your destination, you will need to bring the following:
Identification: up-to-date tags and a collar. DoveLewis recommends microchipping pets as a permanent form of identification. Make sure the contact information on the microchip is regularly updated. Bring a recent pet photo in case they get lost.
Documentation: medical records and proof of vaccinations (especially rabies). If a pet gets sick on the road, these documents will save valuable time.
Food and Water: pack your pet's regular food, and plenty of water, making sure to include extras of both in case of road delays.
Pet First Aid Kit: first aid is not a substitute for veterinary care, but it could save a pet's life or prevent further injury until they can receive medical treatment. See a full list of supplies needed.
Linens: extra towels for water-loving pets and blankets for sleeping.
Cleaning supplies: pet waste bags and cleaning supplies in case of accidents.
Litter box, if needed: for car trips over six hours, consider making a travel-sized litter box for cats.
Toys: including a new toy and old favorites. Providing something for a pet to do during the drive will keep them occupied.
While on the road
 
Always keep pets and paws inside your vehicle. Dogs will be most tempted to hang out the window and catch a breeze, but they risk falling or jumping out of the car or getting debris in their eyes while traveling.
Be sure there is plenty of air circulating for pets. Check to ensure that they are comfortable with the temperature in your vehicle.
Never leave pets in the car on a warm day. Even with the windows cracked, it can only take a few minutes for the temperature in a vehicle to reach heatstroke-inducing levels.
Make frequent stops for bathroom breaks and exercise on a leash. Adult dogs will need a break every three to four hours, while puppies need a break every two hours.
Always keep dogs on a leash in unfamiliar areas. A pet can be spooked, chase a squirrel, or run after another dog at any moment, especially in unfamiliar situations while traveling. This can result in injury or a lost pup.
With the right prep work and planning, pet owners and their four-legged friends can focus on the fun and enjoy a great road trip together.