DOVELEWIS CRITICALIST REMOVES PORCUPINE QUILLS FROM DOG'S HEART
Boone was roaming his family's property when he encountered a porcupine leaving him with quills in his abdomen, throat, mouth, and back legs. DoveLewis was there to help.
PORTLAND, Ore. – DoveLewis Veterinary Emergency & Specialty Hospital was presented with a rare case when German Shorthaired Pointer Boone was rushed into the ER. Boone had been quilled by a porcupine on his family's property and began coughing when attempting to eat or drink.
Boone had quills around his mouth, throat, sternum, and hind legs. A CT scan revealed that air was collecting outside of his lungs causing the lungs to have nowhere to expand. This led to a chest tube being placed to help drain the accumulated air.
By the next morning, air was continuing to build up, his lymph nodes were enlarged, and Boone was having abnormal heart rhythms. His family decided to pursue a median sternotomy or a surgery that involved splitting his sternum open to allow the surgeon to have access to both halves of the chest cavity to explore and remove any remaining quills.
"While we do see pets who have had altercations with porcupines, it is typically around the face and mouth, so this type of case is rare," said Patient Care and Education Specialist Sarah Harris, CVT, VTS(ECC). "I assisted our board-certified critical care specialist as she opened Boone's chest to get better visibility and watched as she removed several quills from his lung tissue and heart."
The DoveLewis team then flushed his chest to clean the area and performed a leak test which showed no further air leakage. With plenty of antibiotics and pain medications, Boone recovered well from the surgery and even began eating as he became more alert.
Following a couple more days of recovery, Boone was well enough to continue his recovery at home with his family by his side. "Boone is doing well," Boone's owner Jacob reports a week later, "He's turning back into his happy self again."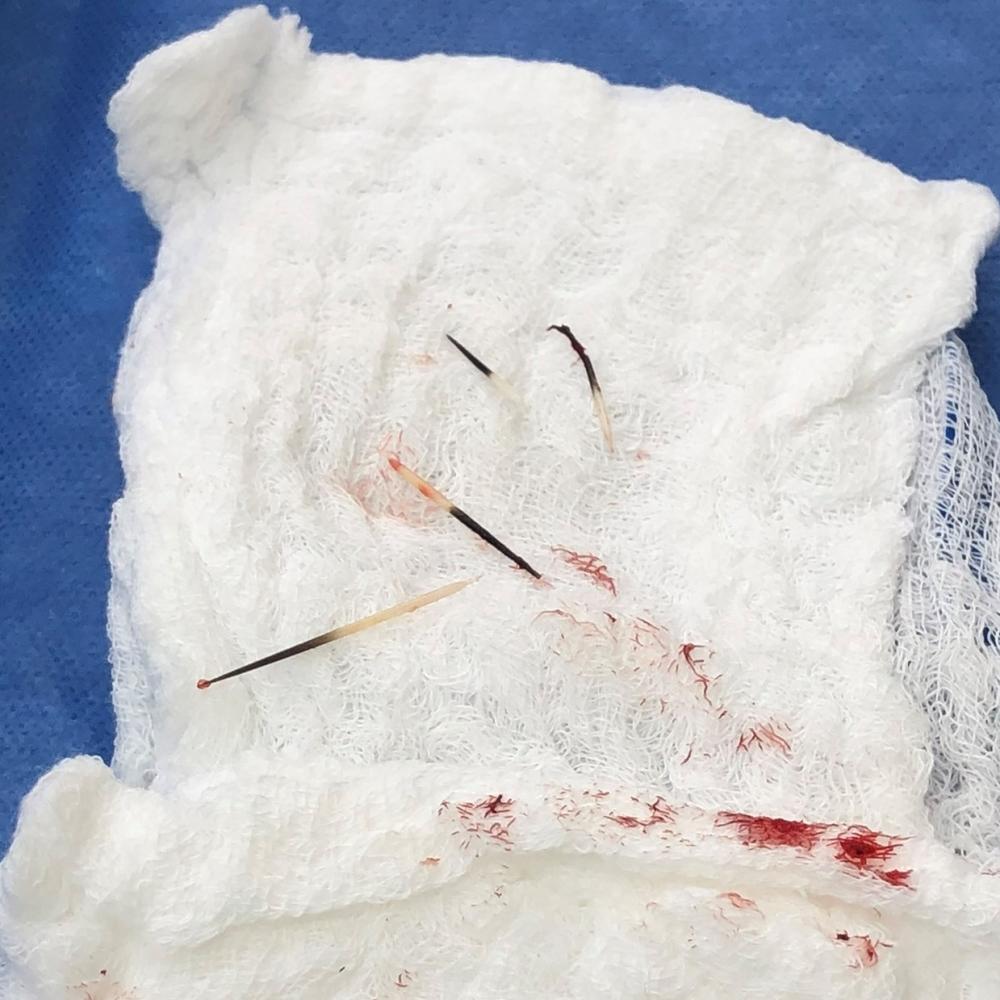 ###