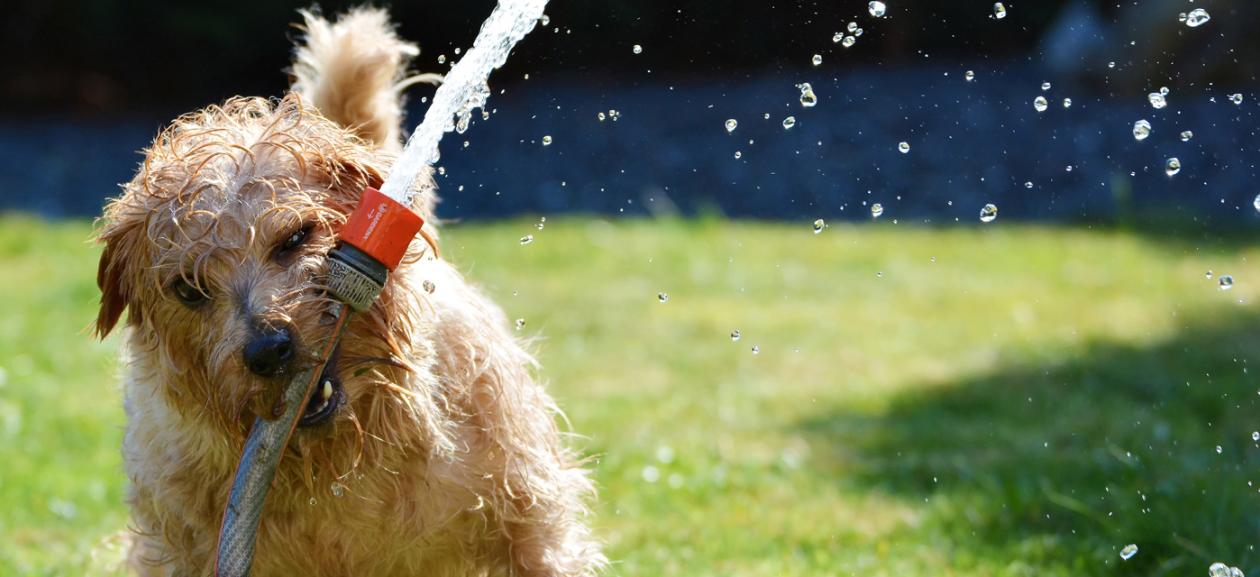 Don't Overlook These Summer Pet Risks
Portland summers bring beautiful clear skies, hot outdoor fun and a myriad of ways to enjoy the sunshine with your furry family members. During this time of year, most pet owners are cautious of ticks, heatstroke, and leaving pets in a hot car. But there are a few additional hazards that come with the summer season:
High-Rise Syndrome:
High-rise syndrome commonly refers to the phenomenon of cats and dogs falling from high places. During the hotter summer months, pets are at greater risk of falling from open windows and balconies on upper floors of homes, apartments and skyscrapers.
High-rise syndrome prevention tips:

Don't depend on screens to keep pets from falling out of windows.
Don't leave windows open even a crack, as pets can nose them open wider.
Move patio furniture away from balcony and patio railings.
Supervise pets on balconies or high patios at all times.
If possible, install air conditioning so windows can be closed on upper floors.
If your pet suffers a fall, seek veterinary care immediately. Survival rates are high if your pet is alive and receives the appropriate critical care treatment.
Corn Cobs (and Other Foods):
As you enjoy a summer BBQ, remember that corn cobbs are dangerous for pets if ingested. One of the most common reason animals are brought in to the ER is because they ate something they shouldn't and corn cobs are dangerous as they can get stuck in the intestines which requires surgery. Many foods (chocolate, grapes, onions, etc.) can be toxic to animals, while corn cobs, chicken/beef/pork bones, etc. can create a blockage and require surgery.
Food ingestion prevention tips:

Stay informed about possible toxic foods and other items through ASPCA Poison Control.
Keep all food out of a pet's reach while you enjoy a summer BBQ or picnic.
Make sure trash bags are tightly secured in case your pet tries to sneak a taste.
If you believe that your animal is ill or may have ingested a toxic substance, contact your local veterinarian or the ASPCA Animal Poison Control Center at 1-888-426-4435. 
Toxic Algae:
Portland waters tend to see a blue-green algae species (microcystis) that is toxic to both people and pets during summer months. It is visible as a swirling, bright-green slick and can be fatal to dogs within an hour of exposure if ingested or inhaled. As of July 2016, two advisories are in effect for toxic algae growth in southern Oregon. Portland could see toxic algae growth following a heat wave.
Seek medical attention immediately if you suspect your pet may have been exposed. Symptoms include vomiting, diarrhea, drooling, weakness, staggering, convulsions, and pale gums. 
If your pet exhibits any of these signs, or if you are at all concerned about your pet's health, please visit DoveLewis or the nearest emergency veterinarian as soon as possible.
Toxic algae exposure prevention tips:

Stay informed with toxic algae growth alerts through Oregon Health Authority.
Avoid exposure to areas that may be affected by toxic algae growth.
Don't let your pet swim in or ingest water in or nearby affected area.
Salmon Poisoning:
Dogs can contract Salmon Poisoning Disease by eating raw fish in and around the coastal rivers and streams of the Pacific Northwest. The warmer months tend to increase the likelihood for exposure when dogs and their owners spend more time outdoors. Infection happens by eating raw fish from this region, and symptoms appear four to 10 days after ingestion. Nine percent of dogs who are left untreated die from the disease. However, salmon poisoning is treatable if caught early.
Symptoms include vomiting, severe diarrhea, lethargy and weakness, swollen lymph nodes, loss of appetite, high fever and dehydration.
Salmon poisoning disease prevention tips:

Don't let pets near raw fish, including salmon, trout, lamprey and other fish native to the region, that are found on the shore.
Do not feed your dog salmon while you are fishing, boating or at the seafood market, even if they begs.
Dispose of raw fish carefully, and keep pets away from trash that may contain raw fish.
Call your regular veterinarian or DoveLewis immediately at 503-228-7281 if your dog develops symptoms of salmon poisoning. Be sure to tell your veterinarian if you suspect your dog ate raw fish. Cooked fish will not put your dog in danger.