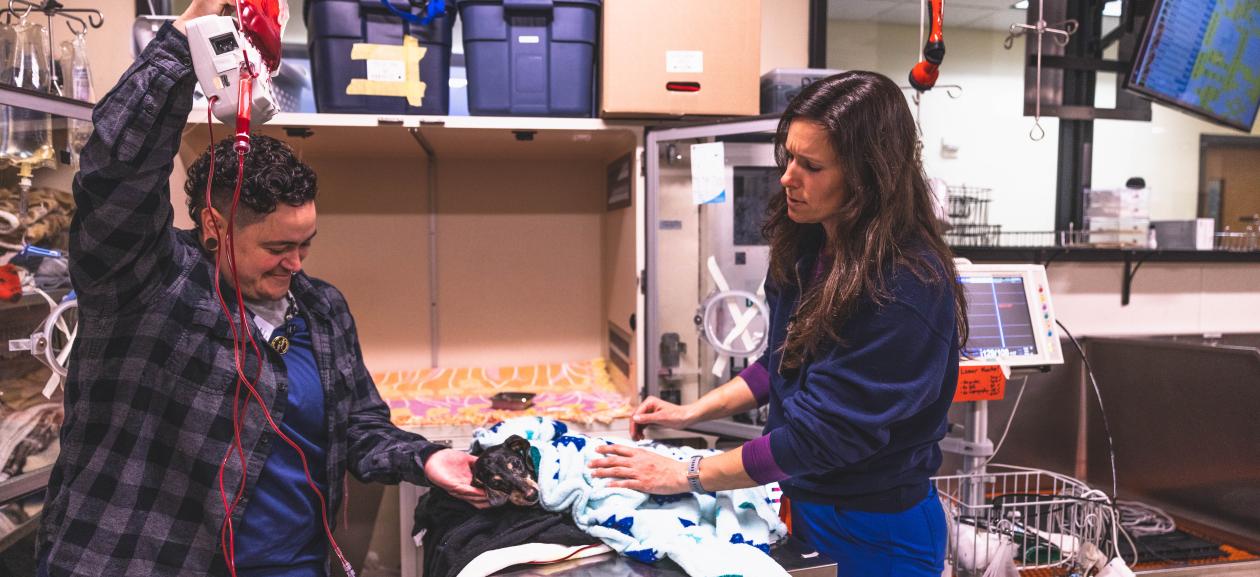 24 Hour Vet Near Me: Around-the-Clock Care for Your Pets
Our pets are an integral part of our families, offering companionship, love, and joy in our lives. However, just like humans, they can get sick or injured and require urgent medical attention at any time of the day or night. In such situations, having access to a 24-hour veterinary hospital and knowing where the nearest one is to you becomes crucial so your beloved pets get the timely care they need.
Understanding a 24-Hour Veterinary Hospital
When something happens to your pet and you're searching "nearest emergency vet to me" or "24 hour vet near me," emergency animal hospitals like DoveLewis are listed. But what does a 24-hour vet actually mean? A 24/7 veterinary hospital is a specialized medical facility that operates around the clock, seven days a week, including holidays. Unlike traditional veterinary clinics with set hours, these hospitals provide continuous care for pets during both regular and after-hours.
Emergency situations with our pets don't follow a schedule, they can happen on the weekend or in the middle of the night when you can't get into your regular veterinarian. A 24-hour veterinary hospital is equipped to handle critical cases in their ER and ICU ranging from injuries and accidents to sudden illnesses or complications and ensure immediate attention and treatment for pets in need.
The Value of 24/7 Veterinary Hospitals
Immediate Care
Like humans, pet emergencies do not adhere to a schedule! A 24-hour animal hospital guarantees that your pet receives prompt care and attention, regardless of the time of day or night. This ensures that potentially life-threatening conditions can be addressed without delay, significantly improving the chances of a positive outcome.
Specialized Staff
An ER veterinary hospital has a dedicated team of veterinarians, technicians, and support staff who are specifically trained to handle emergency cases. These professionals have experience in critical care, diagnostics, surgery, and other specialized areas, enabling them to provide comprehensive treatment for a wide range of conditions.
Advanced Facilities and Equipment
24/7 veterinary hospitals are equipped with state-of-the-art medical facilities and equipment, similar to those found in human hospitals. This includes diagnostic tools like X-ray machines, ultrasound devices, blood analyzers, and surgical suites. The availability of advanced technology ensures accurate and timely diagnoses and enables swift intervention in critical situations.
Collaboration and Referrals
24-hour vets often collaborate with other specialists, including radiologists, surgeons, and internal medicine experts, to provide a higher level of care. In complex cases, if a pet requires specialized treatment beyond the hospital's capabilities, they can facilitate referrals to appropriate specialists for ongoing care. At DoveLewis, we are more than just an emergency vet, we have on-site board-certified specialists available for consults and work with our ER and ICU teams to help ensure the best care for your pets.
Supportive Environment
The emotional distress when your beloved companions are unwell is difficult. Especially in an ER environment where pets are seen based on the severity of their condition and not at the time of their arrival. A 24-hour animal hospital recognizes the importance of empathy and compassion in these moments, offering support to worried pet parents during these stressful times.
Having access to and knowing where a 24/7 veterinary hospital is close to you is a crucial aspect of responsible pet ownership. These veterinary hospitals offer round-the-clock care, ensuring that your best friends receive veterinary care, no matter when an emergency arises. With specialized staff, advanced facilities, and a supportive environment, these ER animal hospitals provide comprehensive care for pets in critical situations.
DoveLewis is open 24 hours a day, 7 days a week. Call 503-228-7281 if your pet is experiencing an emergency or walk into our lobby in NW Portland no matter the hour for help.