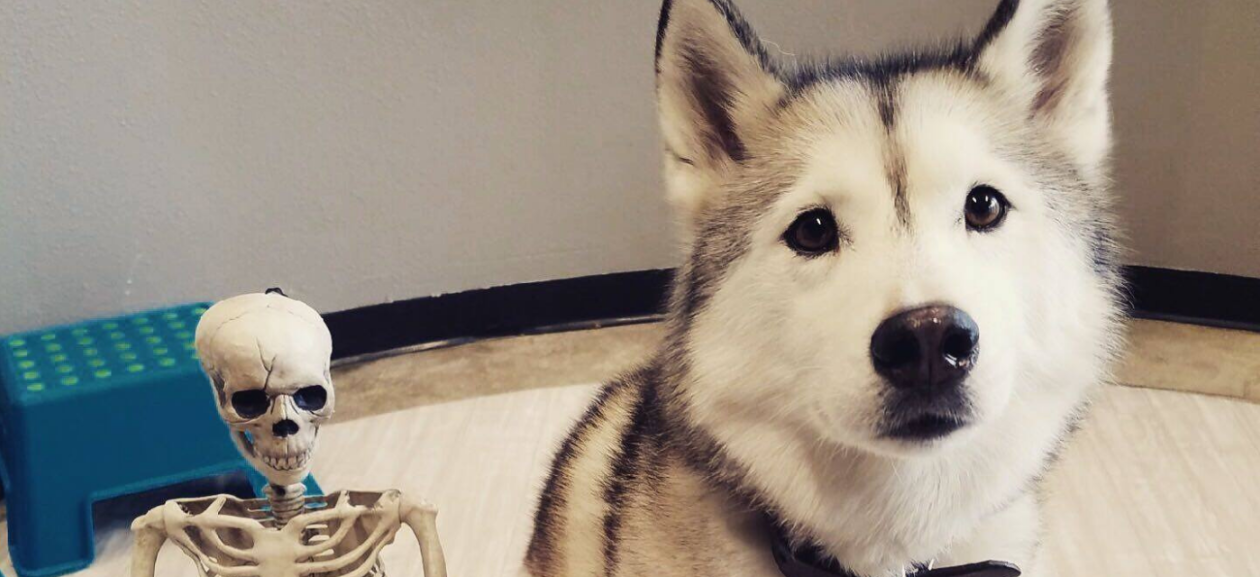 Halloween Pet Safety Tips
Fright night might be fun for humans, but it can be frightfully scary—and even dangerous—for pets. DoveLewis Veterinary Emergency & Specialty Hospital wants to remind pet owners to be mindful of the various ways Halloween can pose a threat or cause stress for their pets.
"Problems can arise for pets when their environments and routines change suddenly," said Dr. Ladan Mohammad-Zadeh of DoveLewis. "Candy, costumes, trick-or-treaters, candles and decorations are foreign and possibly dangerous to pets during this occasion."
What to keep in mind this Halloween:
Candy Caution
While you're enjoying Halloween treats, look out for candy containing xylitol, a sugar substitute often used in sugar-free gum and candies. Even small amounts can be highly toxic to pets, leading to severe health issues. Candy can cause significant gastrointestinal upset in pets, and chocolate is toxic to pets. Additionally, lollipop sticks, plastic parts, and wrappers can cause an obstruction and potentially rupture your pet's intestines. To prevent any potential problems, make sure to keep your candy stash safely out of reach.
Be Mindful of Trick-Or-Treaters
Trick-or-treaters can cause pets to feel that their territory is being invaded. Keep your pets secured indoors and away from trick-or-treaters. Putting your dog in a secluded area of the house will help them stay calm and keep them from scaring visiting ghouls and goblins. It will also prevent your pet from darting outdoors. Do not take your dog along with you if you're going trick-or-treating. Even typically calm dogs may get spooked by excited, shrill voices, spooky decorations, and strange costumes. On nights like these, it's always best to make sure your pet is wearing identification — a collar with ID tags and/or a microchip can be a lifesaver if your pet does get out.
Pet Costumes
If your pet is new to wearing costumes, give them time to adjust before Halloween. Start with short, positive sessions and gradually increase the time they wear the costume. Reward them with treats and praise to create a positive association. Costumes are typically more fun for humans than animals. An animal in a costume should never be left alone or unsupervised. Some pets may chew up their costumes and ingest them. This could cause intestinal obstruction. If the costumed pet escapes or is frightened away, the costume could get caught on trees, fences, or bushes, and your pet could get hurt or stuck in the process. 
Pet-Friendly Decorations
Decorations like pumpkins, candles, and electrical cords can pique your pet's curiosity. Keep candles out of paw's reach, and be cautious with cords to prevent chewing hazards. Consider using battery-operated candles in your jack-o'-lanterns to avoid fire risks.  Don't leave candles lit if you are away from your house; make sure your pet doesn't have access to lit candles when you're home. Make sure to keep decorations and decorative lights away from pets, especially curious puppies and kittens. One chewing session with fake spiderwebs, lights, and glowsticks can make for a dangerous and even deadly situation. Changes to your home with these fun decorations can make your pets nervous. Make sure they have a safe space to go in your home that is free from decorations.
Create a Cozy Retreat
Finally, if your pet finds Halloween festivities a bit too frightening, set up a quiet, secure space where they can retreat. Offer their favorite toys, a comfy bed, and soothing background music to help them feel relaxed.
Being aware of these potential hazards can make every holiday a little more enjoyable and a lot less costly. DoveLewis wishes you a Happy Howloween!
If you suspect your pet may have come in contact with or ingested something toxic, contact the ASPCA Animal Poison Control Center immediately at (888) 426-4435, your local emergency hospital, or DoveLewis at (503) 228-7281.