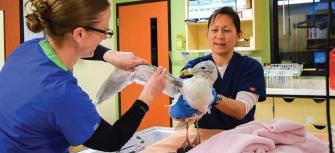 Stray & Wildlife Fund
Hundreds of injured strays, lost pets and hurt wild animals come to DoveLewis from county shelters, good Samaritans and first responders each year.
Update on Rabbit Hemorrhagic Disease (RHD)
Rabbit Hemorrhagic Disease (RHD) is a highly contagious, fatal viral disease in rabbits caused by multiple virus strains. RHD is spread between rabbits by direct contact with infected animals or their urine and feces. RHD does not affect humans or other animals. Sick or injured wild rabbits should be brought to Portland Audubon. If you find an injured or ill wild rabbit outside of Portland Audubon's normal hours, keep it in a small box in a dark area away from kids and pets until Portland Audubon is open again.
Read more about RHD from the Oregon Department of Agriculture. 
Why We Need Your Help
The cost of emergency treatment for lost, stray, and wild animals to rises above $200,000 every year. We rely on our generous donors to ensure that we are here 24/7 for stray animals and wildlife needing emergency care. We work with all county shelters and comply with their protocols regarding stray animals. We receive minimal reimbursement to cover the emergency care of animals brought in by county agents. Good Samaritans are asked to make a donation for the care of the animal they have rescued, but the expense is often much greater than the contribution. Care for wildlife and the remainder of the expenses to treat stray and lost animal is covered by donations to the Stray Animal & Wildlife Fund.
---
What to Do If You Find a Stray Animal or Wildlife
Whether you've found a litter of stray kittens or you've lost your pet, we want you to be armed with the information you need. See how we can work together to help stray animals and wildlife.