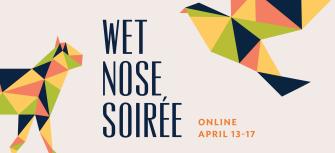 Wet Nose Soiree
Wet Nose Is Going Online!
April 13-17, 2020 
When life hands you lemons, make lemonade. Then give that lemonade a twist, add it to a fancy glass, and toast to the opportunity to try something new! 
The Wet Nose Soirée is going digital.
Join us for DoveLewis' biggest philanthropic event of the year! To keep our community, staff, and volunteers safe, the Wet Nose Soirée will take place online from April 13–April 17. 
Some auction items are now open, including Golden Raffle Tickets, the "Buy it Now" category, Wine Wall, and Fund a Need. The remaining auction items will open tonight at 7:00pm. In the meantime, browse the items and get ready to bid! 
Online Auction | Special Animal Guests | Touching Stories
Bid on exclusive auction items and enjoy heart-warming moments.
Join our five-day auction to win one-of-a-kind packages and support the lifesaving care DoveLewis provides to animals and families in need. Featuring a message from our CEO, Ron Morgan, inspiring stories of patients who your donations have saved, and exciting auction items, you can enjoy this year's soirée from the comfort of your home. On April 13, we recommend you and your loved ones get dressed up, order from your favorite place and make a special night of it.
You can help our community.
DoveLewis remains open 24/7 fulfilling our promise to care for every animal and every person who cares for them. Always. But we can't do it without you! Your participation provides financial assistance and medical care to thousands of pets and people who have nowhere else to turn. Will you join us?
If you previously purchased a ticket: 
Of course, we will refund your ticket(s) if you would like. Or, we are happy to convert your ticket purchase into pure donation to DoveLewis to support the thousands of animals we treat every month. DoveLewis has incurred a 4% transaction fee on every ticket purchase which we cannot recover. The benefits of converting your ticket to a donation are that it will be a fully tax-deductible gift that helps save animals in your community, and you will have early access to online bidding for auction items!
Now, more than ever, we need your support. If you have any questions, or would like your ticket to be refunded, please contact us at events@dovelewis.org or 971-255-5928.
FOR QUESTIONS, PLEASE CONTACT:
events@dovelewis.org  |  971-255-5928