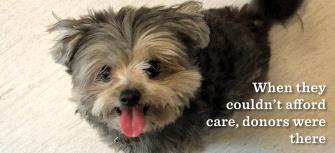 Best Friends Are Worth Fighting For
When Bubba (above) needed emergency care after a terrifying dog attack, a donation-supported program at DoveLewis healed his wounds.
Bubba was enjoying a nice sunny day in his backyard when the neighbor's large dog began antagonizing him through a hole under their shared fence. The two dogs began barking at each other, and as David ran outside to break it up, Bubba's little head disappeared.
He had been pulled under the fence by the dog! David screamed at the neighbor dog until he let Bubba go. Bubba was crying in agony and bleeding from a huge gash on his chest.

David and Bubba raced to two different veterinary clinics, desperate for help. But, with limited financial resources, they could not afford care. Finally, they were directed to DoveLewis, where community support helped Bubba get the care he needed.
You make it possible for pets of low-income families to get the care they deserve. With your gift this holiday season, you can help another family with a pet just like Bubba.
David sat anxiously waiting at DoveLewis while his best friend got help. Bubba's wound was three inches long, and Dr. Betsy Golden worked quickly to relieve his suffering.
"I was so thankful that they took him back immediately when I came in," David said. "I just wanted to make sure he was OK. He's my best friend and I couldn't stand seeing him in pain."
Thanks to donors, Bubba received wound care and pain medications, and was soon ready to go home.
Unfortunately, we're seeing more pet emergencies than ever. Last year, we broke another record, caring for more than 22,000 animal patients just like Bubba. Over 16% of these animals needed some form of financial help. 
Without your generosity, animals like Bubba suffer in misery. Families are forced to make unnecessarily difficult and tragic decisions. But you can help. Donations ensure we can care for these animals.
With your help, you could make a tremendous impact on a family who just wants their pet to get better. And a pet who wants to see more sunny days and enjoy more love from their family.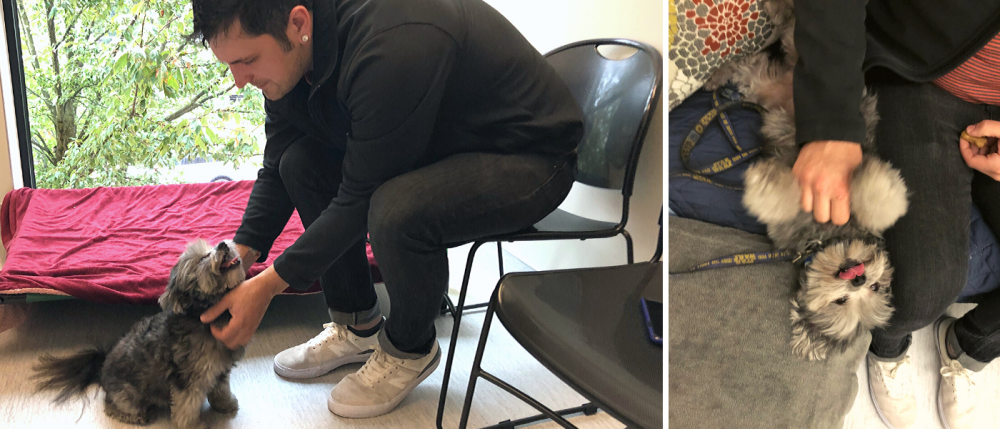 Please make a gift to DoveLewis today to help every pet live a happy and healthy life.
We envision a world where every animal receives the care they deserve. That vision is becoming a reality, thanks to you! Your past support allowed us to set aside the largest-ever pool of donations to help pets this year. Still, we dream of a world without limitations and maximums. We can get closer to this goal with your support today.
Will you give a gift this year to care for more family pets like Bubba? You make joy possible again with your gift to DoveLewis.