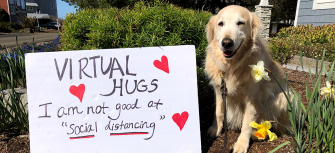 Virtual PACTT Sessions
Spreading Comfort & Cheer Through Virtual Canine Therapy
Our therapy dogs and their handlers are missing their in-person visits as we continue to practice social distancing. We have been providing a few virtual options on Facebook Live and Zoom Read to the Dogs but we are now expanding our virtual services!
By using the link above, we can now connect our Portland Area Canine Therapy Team (PACTT) with healthcare facilities, schools, other institutions, individuals, and kids who could benefit from the power of the human-animal bond through virtual therapy dog sessions.
List of Canine Virtual Therapy Options:
Read to the Dogs
Employee Wellness Day
Court Room Visit
Secured Facilities Virtual Visit
Senior Care Facilities
Virtual Visit for Hospitals
Finals Stress Relief
Special Events

Did you know the therapeutic benefits of therapy dogs?
decreases feelings of isolation

encourages communication

provides comfort and a sense of calm

increases socialization and sense of community

reduces boredom

decreases anxiety

reduces loneliness

helps children focus better and improves literacy skills
provides non-stressful, non-judgmental environment
increases self-confidence and reduces self-consciousness
Click the button below to select from our options and times available for you or your facility.