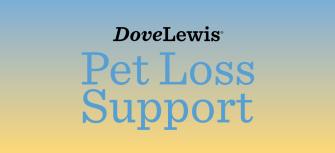 Pet Loss Support Meeting
The loss of a pet can be devastating. For many, this is a loss not only of a pet, but of a best friend. Pets shared their lives, dreams, homes, and affections with us and because they touched our lives so deeply, DoveLewis believes they are deserving of our grief.
Grieving for a pet is a natural, normal, and personal process, and group support can be a helpful outlet. During each session, Debrah Lee, a licensed clinical social worker and the director of the DoveLewis Veterinary Well-being Program, will lead the group in discussions that will open up opportunities to reflect, share, listen, and heal at your own pace.  
Thursday, August 5 |  12-1pm (PT)
For registrants, we understand that unexpected plans can affect your attendance at this event. Please email us at petloss@dovelewis.org if you are unable to attend so we can open the space to another who is seeking the support of the group. Thank you!
Health & Safety:
As we begin the process of easing into in-person meetings, attendees are welcome to wear a mask if they so choose. We do encourage unvaccinated individuals to wear a mask for the safety of our staff and fellow attendees. Thank you for your understanding!
Location
DoveLewis Business Office 
Albers Mill Building
1200 NW Naito Pkwy, Suite 300
Portland, OR 97209
Note: If you are attending an evening session and the front door of our building appears to be locked, please wait a few moments. A DoveLewis volunteer will arrive to assist you and direct you to our office. 
Parking
The Albers Mill parking lot has a limited number of free, two-hour visitor parking spots available. You are welcome to park in one of these marked visitor spots. Street parking is generally available on NW Naito ($2 per hour; free after 7 p.m.), or you may pay to park in one of the non-visitor spots in the lot (Weekdays: $20/hour before 2 p.m., $3/hour after 2 p.m.; Weekends: $3 all day).  
Contact Us:
Email: petloss@dovelewis.org
Our Pet Loss Support program is made possible by the pet-loving community and by our generous donors. Donate today.
Please Note: This program is designed to help people who have experienced or are anticipating the loss of their pet. It is in no way a part of our Lost & Found Pet Database.