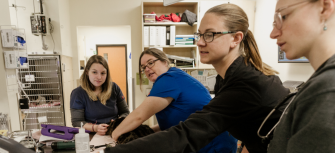 Navigating Our Relationships With Clients - April
Navigating Our Relationships With Clients - April
Join like-minded veterinary professionals as we explore, discuss, and reflect on the cases that stick with us, even when our shifts are long over. During these facilitated discussions, group members uncover different and new perceptions about the client's and clinician's feelings and their experiences with each other.
These meetings are a chance to enhance veterinary professionals' ability to connect with and care for the patient sustainably so those thorny cases no longer keep us up at night. 
Led by DoveLewis' Chief Medical Officer Shana O'Marra, DVM, DACVECC, and Jillian Romm, RN, LCSW, Credentialed Balint Leader
April 8  |  May 27  |  June 10  |  July 8  |  August 12  |  September 30
DoveLewis Training Room | 1945 NW Pettygrove, Portland, OR 97209
Light refreshments provided
If this is your first meeting, please arrive 15 minutes early to meet the facilitators and to get a sense of a typical meeting. We will start promptly at 7:00 PM
UP TO 6 HOURS OF ACCREDITED NON-SCIENTIFIC CE IN OREGON
Have a question about these meetings? Email us at balint@dovelewis.org or submit your question(s) through our FAQ form.