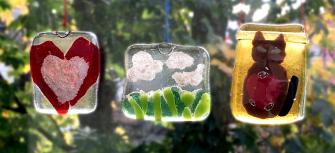 Cancelled - Memorial Art Class - April
Cancelled - Memorial Art Class - April
DoveLewis is following the recommendations of local government and the CDC to protect vulnerable members of our community from the spread of COVID-19. We are sorry for any inconvenience, but this event has been cancelled. The hospital will continue to be open for veterinary emergency and specialty care 24/7.
Sponsored by Dignified Pet Services and DoveLewis

April 11, 2020  |  3:00 – 4:30 p.m.
Project: Personalized Picture Frame
You are welcome to bring a variety of printed photos of your pet to incorporate into your memorial art project.
Due to the Easter Sunday holiday, this class be held on Saturday for this month
LOCATION AND PARKING
DoveLewis Business Office 
Albers Mill Building
1200 NW Naito Pkwy, Suite 300
Portland, OR 97209

PARKING: 

The Albers Mill parking lot has a limited number of FREE, two-hour visitor parking spots available. You are welcome to park in any of these marked visitor spots for no charge. 

If the free visitor spots are full, your other options are:
» Street parking on NW Naito ($2 per hour) 
» Paid spot in the Albers Mill parking lot (Weekends: $3 all day)
About Memorial Art Therapy Class

This is a free community event. Donations are welcome and appreciated.
One of the best ways to navigate your grief when you lose a pet is by memorializing them through art. Research shows that art and healing come from the same source. In fact, it is now known that when a person is creating art or is healing, this person will emit the same brain wave patterns. Art and healing are so powerful that hospitals are incorporating art into patient care.
 
Facts about the healing elements of art:
Participation in artistic activities can have measurable physiological results such as, reducing stress, improving the immune system, and easing pain
Creating art gives a voice and language to unknown emotions, feelings and behaviors Tapping into our creative energy can help a person to feel more alive, to gain inner wisdom, and to stay more completely in the present moment
When creating art, it uses the emotional and intuitive aspects of a person
 
Each month offers a new opportunity to create something unique and take it home with you! Pets welcome in spirit only. Thank you for understanding.
Please note: We want to ensure that the maximum number of people have the opportunity to enjoy these workshops. If you have attended several workshops in recent months, we ask that you wait to reserve space for an upcoming workshop until the Friday before to allow first-time attendees the opportunity to sign up. Thank you for understanding.
 
Questions? Call 503-228-7281.